Courtney Hansen is a famous American TV actress/host, author, and syndicated columnist. She is known as a versatile star famed for her mind-blowing achievements in her every field.
She has hosted the TV series, Overhualin' featuring automotive works in 2004. Additionally, she has also hosted Spike TV's Powerblock, TLC's Rides, and Million Dollar Motors.
Besides, she has published an automotive book named The Garage Girl's Guide To Everything You Need To Know About Your Car in 2005 for women and first-time car owners.
She has also been writing a bi-weekly syndicated automotive newspaper column titled, Courtney Hansen: Full Throttle since 2005.
As of 2019, she is busy with History Channel's The Ride That Got Away, where she is a host and executive producer. The series is in its second series, featuring repairing and restoration of original cars.
Courtney, with no doubt, has collected a remarkable sum through her earnings from different fields of her career. To this day, she has garnered a net worth of $4 million.
Courtney Hansen's Bio: Age, Family
Courtney Hansen was born on 2nd October 1974 in Minneapolis, Minnesota. The 45-year-old personality nicknamed as 'Auto Queen' stands at a height of 5 feet and 8.5 inches (1.74 meters).
See Also: Deneen Borelli Married, Husband, Children, Bio, Age
Courtney shares a small family, including her 70-year old mother, 82-year old father, and a sister.
Her father, Jerry Hansen, is a sports car driver. He is famous as the winner of the Sports Car Club of America (SCCA) with the highest 27 national titles in auto racing history.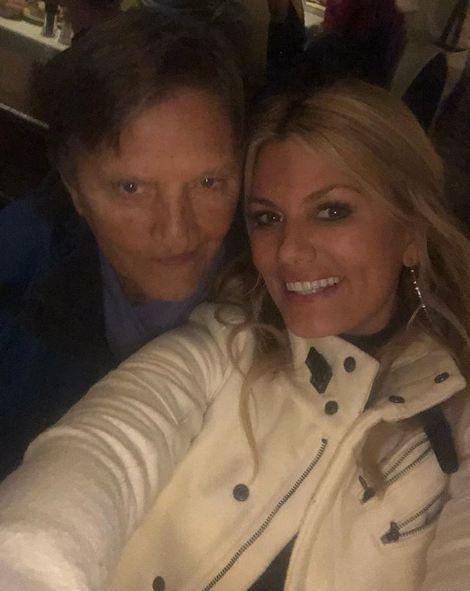 Courtney Hansen with her father, Jerry Hansen, on his 82nd birthday on 24th November 2018 (Photo: Courtney Hansen's Instagram)
Her family owned a racing complex known as Brainerd International Raceway from 1973 to 2006.
She grew up in Orono, Minnesota. From a young age, she developed an interest in automobiles following her dad in auto garages and racing tracks, which she is following until today. 
As of her education, she graduated from Florida State University with a degree in Marketing.
Married To Divorce Details With Husband
When it comes to the love of her life, Courtney has an adventurous story to tell her fans.
It is mixed with both sweet and bitter both, but the former one more and long-lasting as her love life follows below.
Courtney got married to Ilya Sapritsky on 20th March 2010. But after enjoying their married life for two years together, the couple divorced in 2012 following a divorce filed by Courtney. None of them revealed the exact reason for separation.
Courtney finally found a boyfriend for herself in 2013 after remaining single for nearly a year.
Trying to forget her short-lived marriage, she began dating Jay Hartington. The pair was spotted happy and satisfied with each other, openly sharing their relationship in public. 
Tightening their bond with a stronger knot, the pair welcomed their first child on 5th July 2014 shortly after the beginning of their relationship.
They had extended their family with a beautiful daughter named Holland Marysia Walker Hartington.
Though they were now family, they still had one thing to do for their loved ones or maybe for legal purposes. And that was a marriage which they completed on 20th July 2018 after dating for five years. 
The long-awaited marriage took place at the Belmond Grand Hotel Timeo in Sicily. The wedding was celebrated for four days among 150 guests, including some celebrities.
Read More: Laura Ingraham Married, Husband, Divorce, Children, Salary and Net Worth
Her now-husband, Jay Hartington, is an entrepreneur and owner of Marrissa Collections. He also co-owns Rumba Time and MakeupDrop.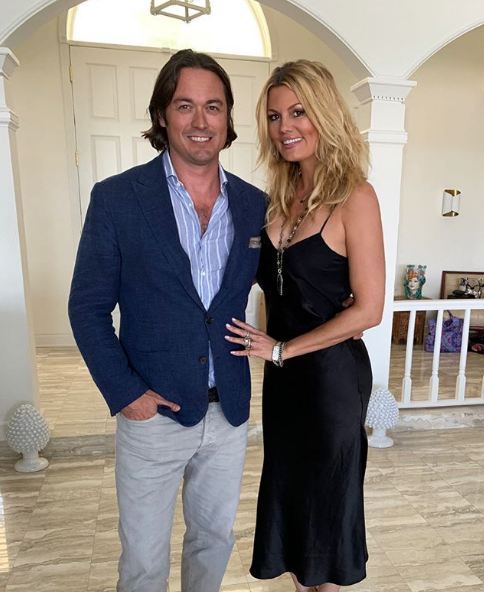 Courtney Harington with her husband Jay Harington on 21 May 2019 (Photo: Courtney Hansen's Instagram)
As of now, the couple is living happily with their beautiful daughter. They are found sharing several pictures together in their social media.