Award-winning actress Chandra Wilson is famously known for her role as Dr. Miranda Bailey in the ABC television drama Grey's Anatomy. She is associated with the show since its Premiere in 2005.
Not just the professional life, Chandra rejoices on her off-screen life as well. She is enjoying a long-haul relationship with her boyfriend, who shares three beautiful children with her.  
Relationship Revelation; Together But Unmarried!
Chandra Wilson carries a blissful life with her partner who is the father of her three children: two daughters and a son. However, despite sharing 30 years of togetherness with her boyfriend, Chandra is yet to get married.
Chandra personally revealed about her dating life while talking to the Parade, a newspaper magazine, on 6 May 2007. She quoted that she shared a relationship but was yet to call her boyfriend a lawful husband. Her revelation was a clear-cut signal that she enjoys togetherness with her long-term partner without tying the marriage knots.  
The parental joy for long-haul couple came in 1992 when their first daughter, Sarina came to the world. Furthermore, they were blessed with another daughter Joylin, who was born in 1998. Adding more bliss to their happiness, Chandra and her partner conceived a son named Michael on 31 October 2005.
Backs Daughter Through Severe Illness!
Chandra felt concerned regarding her daughter's health when she came face to face with the rare disorder at the young age of 16.
After a casual hangout with her friends, Sarina, Chandra's eldest daughter, felt constant attacks of nausea and vomiting. At first, Chandra thought it was a minor case of food poisoning; however, it was severe than what she believed.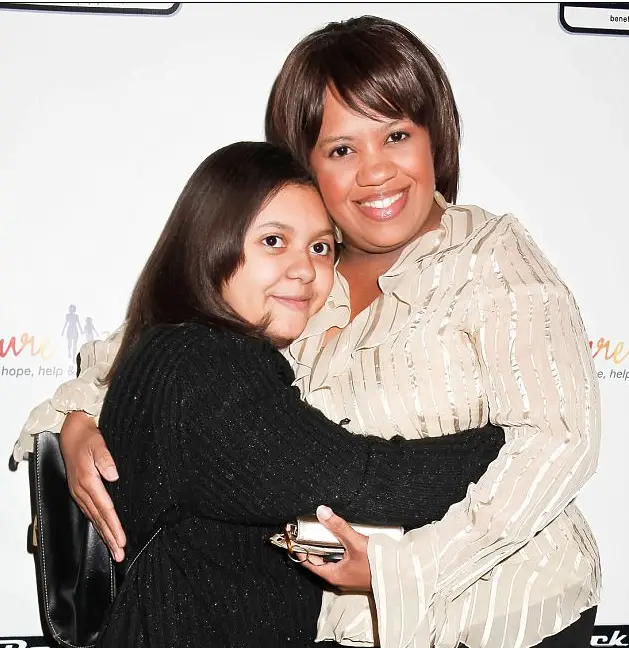 Chandra Wilson with her daughter, Sarina Wilson (Photo: dailymail.co) 
Sarina was diagnosed with a Cyclic Vomiting Syndrome (CVS), a rare disorder characterized by episodes of severe nausea and vomiting. Initially failing to figure out the disease, the doctors finally came up with the concept after ten months of tests.
With the persistence and support from her mother, Sarina was able to fight the fatal disease. Subsequently, Chandra initiated the awareness campaigns regarding the condition to which many unknowingly assume as just the minor flu.  
Professional Journey: Awards, Earnings
Chandra Danette Wilson, shortly known as Chandra Wilson, was born on 27 August 1969, in Houston, Texas.
Growing up in an American family, she was raised by her mother, Wilma Bradshaw Allen, who served as a postal worker. In the hopes of keeping Chandra active, Wilma enrolled her in petitions of after-school activities that would set her course for the acting career.
Before attending Houston's High School for the Performing and Visual Arts, Wilson already performed in musicals with Houston's Theatre Under the Stars Company. Later on, Chandra graduated with a BFA in drama from New York University in 1991.
She made her appearances in various TV shows, including The Cosby Show (1989), Law & Order (1992), Third Watch (2001), and Sex and the City (2002).
Apart from that, Chandra made her movie debut starring alongside Tom Hanks and Denzel Washington in 1993 drama film Philadelphia. 
Carrying on her TV career, Wilson landed a huge break to feature on the ABC's drama-romance series Grey's Anatomy in 2005. Since then, she is continuously flaunting her talent on the show, portraying the character of Dr. Miranda Bailey.
For her tremendous acting on Grey's Anatomy, Chandra has bagged numerous awards alongside huge nominations. She was awarded the Screen Actors Guild Awards for Outstanding Actress in a Drama Series for Grey's Anatomy in 2007. Also, she bagged 2008's Satellite Awards as Best Ensemble Cast in a Series for the same show.
Besides awards and honors, Chandra Wilson basks on a tremendous earning. Her net worth dwells above $10 million.