Cara Santana, actress as well as a fashion blogger, is popularly recognized for her roles in the films and TV series Lipshitz Saves the World (2006), Beverly Hills Chihuahua 3: Viva La Fiesta! (2012), Reunion (2015), and NBC's web series DialStar (2010).
Also, she has made guest appearances in the television series Salem, CSI: Miami, and CSI: Crime Scene Investigation.
Splits From Fiancé Jesse Metcalfe?
As per the reports made by PEOPLE and E-News on 22nd of January 2020, Cara Santana and her long-haul beau, Jesse Metcalfe, called it quits after thirteen long years of romance. Jesse is an American actor and musician, known after 'John Rowland' on Desperate Housewives.
More Of Fashion Bloggers: Juliet Angus Bio, Husband, Net Worth, Parents Info of Ladies of London Star
The break-up news between the pair surfaced days after pictures of Jesse getting cozy with two women was released. He was first spotted hugging the Hungarian model Livia Pillman, outside of a vegan restaurant in West Hollywood. Later, the same day and wearing the same outfit, he was seen with a blonde woman, believed to be the actress Jade Albany Pietrantonio, outdoor of a bar in Sherman Oaks, California.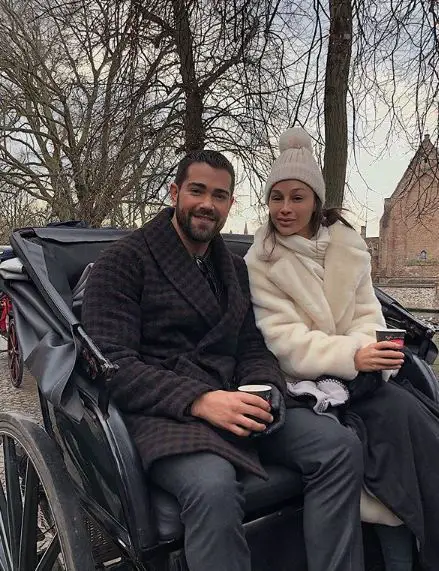 Cara Santana and Jesse Metcalfe on 26 December 2019 in Brugge, Belgium (Photo: Cara Santana's Instagram)
Although, both Cara and Jesse have not yet commented on their separation. A rep for Santana told PEOPLE that the star will not be making any public statement at the time.
Getting Engaged Story
Last pictured together on social media, on the 26th of December, Cara and Jesse went on vacation in Belgium. Amidst the new year eve, Cara wrote on her Instagram, that the coming year, they would be focused on creating memories and experiencing more as a couple.
In her words-
This year @realjessemetcalfe and I decided instead of getting each other gifts, we would give each other an experience. The idea was to create memories, see a new culture and focus on the most important but often most intangible gift that life has to offer: time well spent. He picked the place, I handled the travel and we invited my family. And man, were we NOT disappointed! We couldn't have thought of a better way to spend the winter holiday
Previously, the couple got engaged on 13th August 2016, after Jesse popped the question with a 5.5-carat emerald shaped diamond ring while on a sailboat in the middle of the Hudson River in New York.
More From Stunning Actresses: Everything About Mayling Ng: Wiki, Age, Height & Personal Life
Clara, who plans to wear her mother's wedding gown on her big day, told Us Weekly in March 2019 that she and Jesse had not made much progress on their wedding planning.
Interesting Facts on Cara Santana- Wiki, Age
Cara Santana, who was born in 1984, celebrates her birthday on the 15th of August.

Clara struggled with her drug and alcohol addiction during her teens.

She is a fan of body art and has several tattoos on her. The one on her ribcage is inked in Hebrew which translates to "A setback, is a set up for a comeback". She got it after turning sober.

She was raised in a Jewish faith by her mother, but then she also accompanied her father to the Catholic church on Sundays.

She loves playing golf—she first played it at the age of about when she was five or six. By the time she was nine, her father enrolled her for golf lessons at El Paso Country Club.

Cara has been friends with Meghan Markle, the Duchess of Sussex, since 2013, after they bonded during "New York Fashion Week."