If one is capable and lucky enough to be successful at a young age, then there is nothing that can stop to catch the limelight. 
Brooklynn Prince is an American child actress and filmmaker, broadly known for her critically acclaimed role in the 2017 film, The Florida Projects. 
The 9-year-old actress also worked in other movies such as Robo-Dog: Airborne, Great Performers: Horror Show, Monsters at Large, The Lego Movie 2: The Second Part, The Angry Birds Movie 2, and so on. 
The Turning
Brooklynn Prince has recently completed her project, The Turning; the film has released its trailer and will officially release full movies in 2020.
The movie, written by Chad Hayes and Carey W. Hayes and based on a classic novel called The Turn of the Screw of Henry James, stars Joely Richardson.
Brooklynn is portraying the child character of Flora alongside Finn Wolfhard. For looking after the two children, a nanny was hired, Mackenzie Davis.
While Mackenzie is looking after them, they start to act a little strange, and she senses that the two kids are harboring a secret and hiding something from her. 
Soon, Mackenzie realizes that there is something wrong in the house. The trailer of the movie has already been released so, stay tuned for a new adventure of Brooklynn. 
Brooklynn Prince's Age, Parents
Born in 2010 in Florida, U.S., Brooklynn Prince celebrates her birthday 4th May every year. 
Her father is an environmental scientist, and her mother is an acting coach. Brooklynn also has a small brother.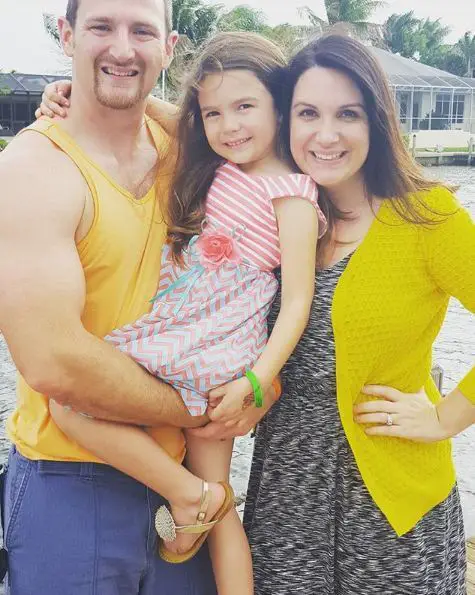 Brooklynn Prince with her parents on 28 May 2016 (Photo: Courtney Prince's Instagram)
Her little brother is everything for little Brooklynn. While going for her film's globe-trotting press tour, she feels devasted to stay away from the love of her life, her little brother. 
During an interview, also Brooklyn never misses a chance to gush about her little brother. 
She further said that when her brother was born, Brooklyn was impatient to carry her brother. For that, her mother asked her if she was ready to take the big responsibility, she eagerly agreed and was handed her brother to her. 
When she carried her brother for the first time, she was in awe. 
Career 
Brooklyn's career started at the age of two by her parents. She started appearing in print and screen advertisements for Parenting, Chuck E. Cheese's, and Visit Orlando, amongst others. 
Check Out: Who Is Chloe Coleman? Big Little Lies's Child Actor Family Background
In 2017, Brooklyn was approached to play a tiny hellion protagonist, Moonee, in the movie, The Florida Project.
Initially, her parents resisted due to her being very small. But eventually, with her parents' instruction of working with their daughter with caution and care, they agreed. 
Now, in soon 2020, Brooklyn is waiting for her work in The Turning, and after that, she is to head to the Apple series, Home Before Dark.