Anastasia Griffith, for as long as she remembers, wanted to be an actress; however, she never thought that she would be able to do it. So, she just decided to "get real" and focus her career behind the scenes: TV/film productions instead.
She graduated with a degree in History of Art from Bristol University and was working as a PA on the BBC's Hearts and Bones when she got jolted into an awareness that acting was part of the production experience – she was passionate about. As a result, she got into the London Academy of Music and Dramatic Art and thus began her acting journey.
Anastasia Griffith's Bio: Age, Height
Anastasia Griffith stands at the height of 5 feet and 8 inches (1.73 meters).
She was born on 23rd March 1978 in Paris and grew up in London. Her father, Ralph, is an American lawyer, and her mother, Elizabeth (Liz), is a Northern Irish.
More From Once Upon a Time Stars: Cindy Luna Wiki, Age, Married, Family
She grew up with six elder brothers, one of whom is actor Jamie Bamber, known for Battlestar Galactica and Law & Order: UK.
Anastasia Griffith's Married Status
Lately, it is not clear if Anastasia Griffith is married, dating a boyfriend or single. However, back in 2004, she dated Welsh actor Michael Sheen for a few months after meeting him on the set of Dirty Filthy Love (2004).
Children
Talking to an interview with meaww on 8th June 2018, Anastasia opened up about getting back to acting in FOX's television thriller Deep State (2018), two years after becoming a mother.
She cited how playing the character 'Amanda Jones' was a bit difficult as she was fresh off her pregnancy and taking care of her newborn.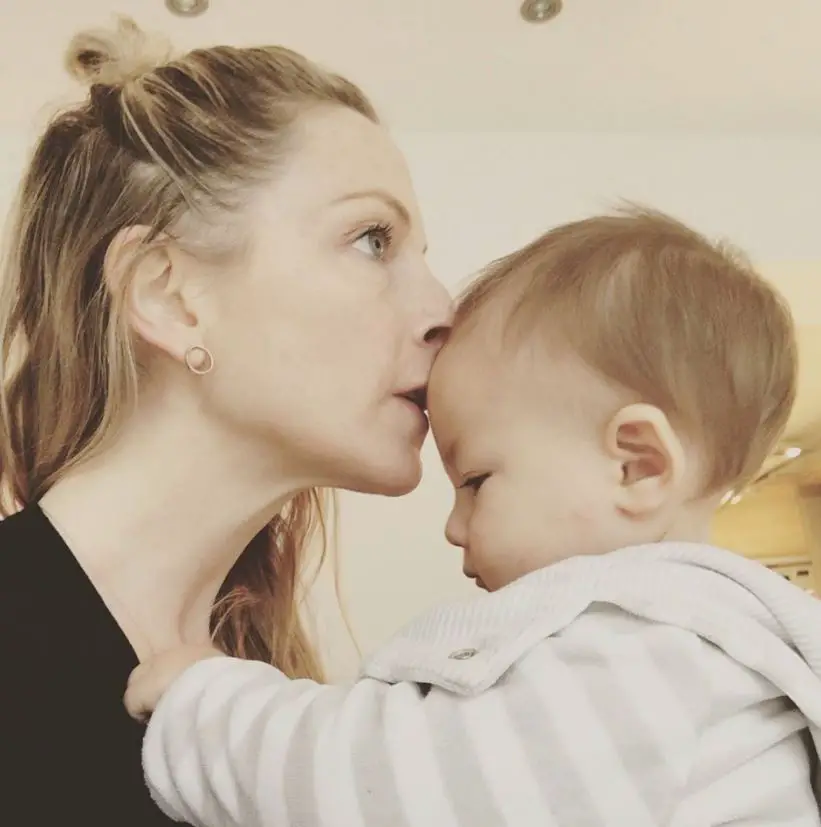 Anastasia Griffith and her son on 16 January 2017 (Photo: Anastasia Griffith)
On 16th January 2017, she conversed for the very first time about her son on social media, eleven days prior to his first birthday.
She wrote:
So over a year ago, I said I would make an announcement. I have been too busy raising my little boy from baby to toddler to get on here, but here he is... Turning 1 in 11 days, my gorgeous son, Alo. He is the light of my life and the spring in my step. The ultimate creation... Happy Birthday my sweet sweet boyo.
The mother of one confessed that having a son was like a "beautiful wake-up call" to what matters, and the experience also showed her a bigger perspective on everything. When it's about the baby daddy, Anastasia has remained tight-lipped.
Movies / TV Shows
Anastasia Griffith is mostly known for her roles on the FX legal drama series Damages (2007–2009) and the NBC medical drama series Trauma (2009–2010).
Actor Who Also Worked In The Blacklist: James Chen Married, Dating, Family, Nationality
Likewise, she has also starred in the TV shows The Blacklist (2017), The Wrong Mans (2014), Once Upon a Time (2011–2014), and movies Alfie (2004), Solitary Man (2009), amongst many other projects.
Interesting Fact on Anastasia Griffith
Television shows like Friends, Sex and the City, The Tudors, Jeeves, and Wooster (an old British tv show), are her forever "keep me company" programs to watch.
Anastasia felt left out and lonely while her brothers played games because, unlike the ones they played, she wanted to play horses.