Born in Miami, the American actress, Cindy Luna is a first-generation American who shares the most strong ties with her Columbian heritage.
The gorgeous is set about on a journey to make a name for herself in the industry, and in recent times, she has a lot going for her. 
Having already relished the various recurring roles in NCIS: Los Angeles, Castle, Once Upon A Time, Gang Related, and The Bold and the Beautiful, she is now looking for that one script which would bring about a significant turn in her acting career. 
Who Is Cindy Luna From The InBetween?
Cindy, who started her professional career as a model in her early-teens, gradually transitioned to television acting. 
It was with Telemundo's Más Sabe el Diablo which became her big break in the television industry. 
The InBetween Cast: Justin Cornwell Wife, Dating, Net Worth
Meanwhile, in recent times, she landed on NBC's supernatural drama television series, InBetween, that premiered on the 29th of May 2019.
The show stars Cindy as detective Maria Salinas. 
No doubt the project means so much to her for she cannot stop gushing about her character and the experience of playing her. 
I felt really comfortable, of course, after preparing a lot for it. After they tested it and I got the role, I honestly could've not been happier and it has been such an amazing experience where I've grown so much professionally.
The strong and tough Latin woman she played is indeed the most anticipated play of her life so far. 
Her Wiki / Bio: Age & Family Facts
Cindy grew up celebrating her birthday every year on the 7th of November.
Comparatively, Cindy is tight-lipped when it comes to her personal life, especially her family facts. 
But then time and again, she allows a little bit of peeking to it via her social media pages. 
From what it appears, Cindy, who stands to a height of 5 feet and 5 inches (1.65 meters), is strongly committed to her family values. She genuinely loves and respects her folks and sisters.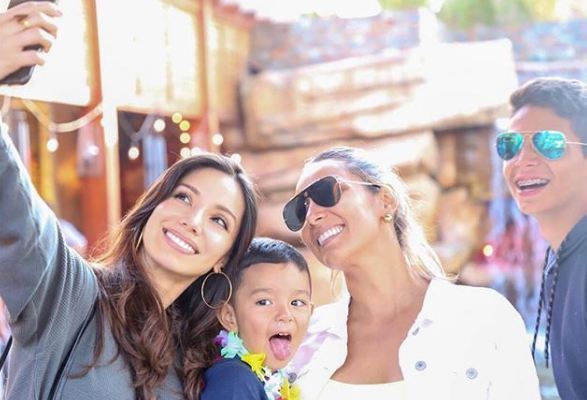 Cindy Luna captions "family" in her Instagram post on 21 March 2019 (Photo: Cindy Luna's Instagram)
Growing up, she must have lived-to several beautiful and irreplaceable memories with her siblings.
Today, Cindy has even formed equally healthy bonding with her sister's young ones. 
Cindy Luna Married?
Known for playing 'Conchita Barros' on the TNT hit drama, The Last Ship, Cindy's fans and followers loved her for the surreal onscreen romances.
Perhaps, for that reason, they want to know just about everything her love-life related, especially her married status. 
Sadly, though her ever-growing fan-following would have to wait a while for she seems to be enjoying being single. The stunner captioned about self-love-
You can be single and still write the most beautiful love story. The story of when you met yourself and you fell in love. That's right loveeeee yourself for if you don't there's no way you can ever truly love anyone else. If you're single then this is your chance to meet YOU and LOVE you. This is the time to grow, purify, learn, connect with God and grow in faith. How beautiful it is to truly live and appreciate every single small moment just as it is and not trying to change it.
Since then (16 July 2017), there must have been some new developments in Cindy's life, and for some purpose, she might have chosen to keep it to herself, prioritizing her career.
At a time like, it is only appropriate that people don't make any groundless speculations that might hurt her profession in the forthcoming days.