Hollywood is still a dream for many acting enthusiasts. And, like many, it was for Ana de Armas-a Hollywood's new girl. 
The initial phase for Ana in Hollywood was not easy at all. She came from different parts of the world who could not communicate in English or understand it.
But within a short time, she has been able to establish herself as a most wanted actress in Hollywood today.
Bio Plus Family Detail of Ana de Armas
Born in 1988, Ana de Armas blows her birthday candle every 30 April. She was raised in Havana, along with her brother.
Her mother, also Ana, was a housewife, whereas her father Ramon worked as a primary school teacher and also worked in an oil refinery. 
Although Ana was born and raised in Cuba, she is of Spanish descent from her mother's side.
And, that has added a spark in her beauty as she has beautiful green eyes with brown centers. Similarly, she stands at an average height of 5 feet, 5 inches(1.68m). 
Ana was very clear regarding the things she wanted in her life. And, she made her career choice when she was just 12 years old. Determined to be the best actress, she joined the National Theater of School in Cuba.
Later, Ana moved to the USA when she was 19 years old to make her dream come true. 
Everything About Ana de Armas's Married Life
Ana was previously married to Marc Clotet, a Spanish actor and an art director. 
The lovebirds tied the knot in July 2011 after realizing that they were meant to be together. However, the wedding was an intimate event for the two as it took place when they were on holiday on the Costa Brava.
 Don't Miss: Vanessa Laine Bryant [Kobe Bryant's wife] Wiki: Age, Divorce, Net Worth
The fairytale wedding soon turned into a nightmare for Ana and Marc.
The newlyweds had a bad roll between them, shortly after their six months of married life. 
Marc confirmed that the intimate married life had come to an end while he was spotted attending the Goya Gala without his partner, Ana, in 2013. Since then, the ex-partner has not maintained many contacts. 
Relationship And Dating Life Of Ana de Armas 
After the split with her husband in 2013, Ana dated Alejandro Pineiro, a Cuban Visual Artist.
Ana was never too shy, sharing some sweet snaps of them on her Instagram account.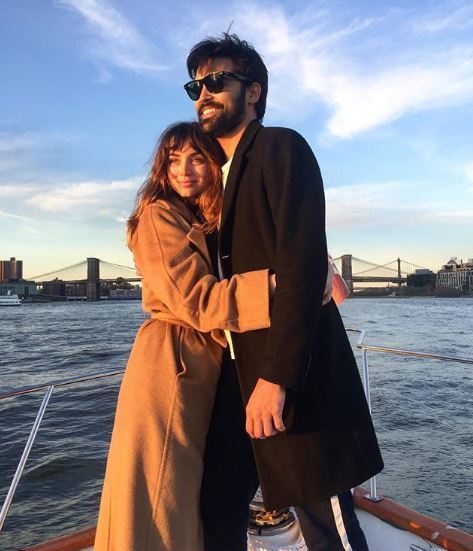 Ana de Armas with her ex-boyfriend Alejandro Pineiro; on 27 April 2018(Photo: Ana de Armas's Instagram)
Her relationship with Alejandro did not last long, and the two parted ways in 2019.
Found Love Again
Although Ana's relationship with Alejandro Pineiro did not work very well, she gave another chance for her love life. And, like most of the actors, she found her love in the set. She is now going very strong with her Deep-water co-star Ben Affleck.
Also Read: Tom Ackerley [Margot Robbie's husband] Wiki: Height, Net Worth, Movies
The duo quickly hit off when they first met in the movie. In addition to their newly blooming relationship, Ana and Ben have developed into a real-life relationship after showing deep chemistry in the set. Nevertheless, the new couple in Hollywood is yet to make things official. 
Movies And TV Shows
Ana made her debut in the movie industry at a very early age of 16. Her first movie was Virgin Rose, a Spanish movie that was released in 2006. Similarly, she made her television debut in 2007 with a leading role of Carolina Leal in the Antena 3 drama-thriller The Boarding School. She played the same role for six seasons.
The actress was able to credit a few movies under her name until she moved to Los Angeles in 2014.
In a short period of time in Hollywood, Ana has been able to be a part of a few big projects. She has appeared in films like War Dogs in 2016, Hands of Stones the same year, Blade Runner 2049 in 2017, and Knives Out in 2019.