Amber Lee Ettinger is an American internet celebrity, actor and model, best known as 'Obama Girl' in the online video "Crush on Obama"- referring to the 2008's presidential candidate and now the former US president, Barack Obama.
The video where Amber is seen lip-syncing to the song expressing her favor of Barack Obama received her numerous media appearances, including Saturday Night Live, Geraldo at Large, The O'Reilly Factor, and Hannity.
Amber Lee Ettinger's Bio: Age, Family Details
Amber was born on the 2nd of October 1982 in Hazleton, Pennsylvania.
Keep Reading: Savannah Sellers Married, Family, Ethnicity, Salary
Her father, Terry Ettinger, and mother, Roseann Ettinger, who joyously lives to their 43rd year of wedding anniversary, made sure to give their young ones a perfect upbringing- guiding them on "love, honesty, hard work and on pursuing dreams."
To the point that today, Amber and her siblings honor their parents as their "inspirations and role models."
Growing alongside sisters, Sabrina Ettinger, Alexandra Ettinger, seemingly close to her age, must have been amazing.
Also, judging from the family-pictures Amber shares on her social media, it appears that the good-looking genes run in the family. 
Married To Husband?
Not long ago, Amber started the countdown to the arrival of her baby girl, due for the 3rd of December 2019, as she posed with her belly bump, looking gorgeous as ever, if not even more.
Meanwhile, this would be her second time experiencing motherhood.
Previously, she had a baby boy, Edin King Vusanjin (born on 24 February 2018), with her boyfriend, Edin.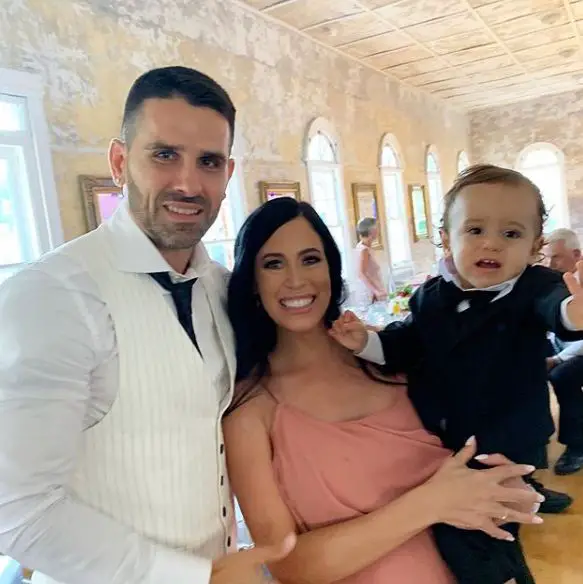 Amber Lee Ettinger with her boyfriend, Edin, and their baby, Edin King Vusanjin attending to a wedding on 10 October 2019 (Photo: Amber Lee Ettinger's Instagram) 
It is more than evident that Amber is happy and in love with her man and their little bundle of joy- "My Family."
Although it seems Amber and Edin are yet to get married, for there is not anything to hint on the matter.
However, they have a long history together. Edin started appearing on Amber's social media gallery back since late 2013.
While today, the presence is only getting better!
Net Worth
Ever since the "I Got a Crush... on Obama", people have been curious to know just about everything in Amber's life, even her net earnings.
Get Word: Alaina Pinto Wiki, Age, Married, Family
Sadly, the precise sum is not yet reported. And, at a time like this, we expect that the recent ventures Amber is indulged in to portray at least a rough sketch through her finances.
As per her Linkedin profile, Amber works primarily as the executive skincare consult for Rodan + Fields, a #2 Best Selling anti-aging skincare in the USA.
Furthermore, the Associate of Arts in Fashion Designing graduate is also an actor, host, and improv on the YouTube Channels, Barely Political - Barely Productions, 2Girls2Minutes, and The Gadget Girl Show; as a designer at InspiredbyAmber and as an owner at Amber Lee Inc.