Alexandra Breckenridge is an American actress best known for voiceover work for a series of characters, including guest celebrities like Sarah Jessica Parker in the popular animated comedy series, Family Guy. 
Apart from the voiceover, she is also known for playing the role of young Moira O'Hara in the first season and the role of Kaylee in the third season of the popular TV show, American Horror Story. 
Bio & Age
Alexandra Breckenridge was born in Bridgeport, CT, the United States, on 15 May 1982. Her birth sign is Taurus. She stands at a height of 5 feet 7 inches (1.71 meters).
Actress Born In 1800s: Veronika Obeng Married Status, Husband, Divorce, Children, Net Worth
Alexandra is the niece of NCIS actor Michael Weatherly. Moreover, she is the granddaughter of Leland Davis Breckenridge and Jr. Patricia Ruth Hetherington. 
Married To Husband? Children Details
Alexandra has been married to Casey Neil Hopper since September 13, 2015. About a year after their marriage, Alexandra gave birth to their first child, Jack Breckenridge Hopper, on 4 September 2016.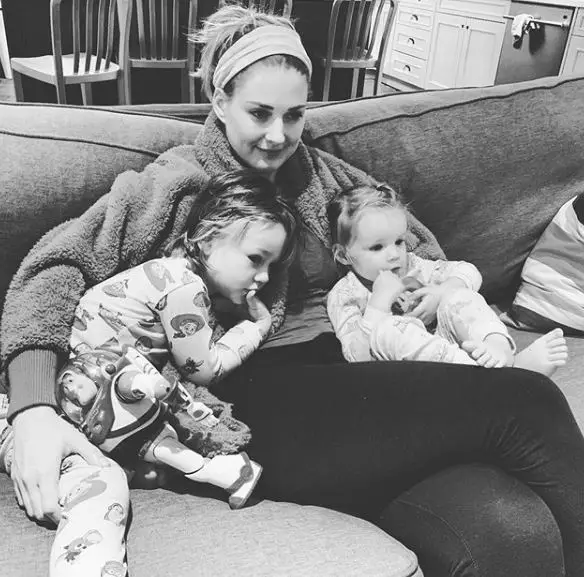 Alexandra Breckenridge with her children on 14 November 2019 (Photo: Alexandra Breckenridge's Instagram)
It was 6 December 2017, when the couple again welcomed their second child, Billie, a daughter. 
Her four years old son Jack has started his preschool from 3 January 2020, whereas her daughter is just 25 months old. 
Her Past Relationship
The Virgin River actress dated a few men in the past. She first dated Bryten Goss. The couple dated from 2004 to 2006. She was very much in love with her painter beau until his untimely death in October 2006 due to coronary failure. She also hosted a couple of art exhibitions to showcase his work.
Also, An Television Actress: Jasmin Savoy Brown Bio, Lesbian, Parents, Is She Dating Now?
A year after her first boyfriend's death anniversary, she dated actor Evan Peters from 2007 to 2010. The pair were occasionally spotted together, hanging out. At one point, she was also spotted kissing him on the cheek. But they appeared to have ended their courtship in 2010. 
At the end of 2011, she was reported to have dated Seth MacFarlane, a creator of Family Guy. He also offered her guest roles in his animated TV series. They first went public as a couple at the American Music Awards VIP after-party in November 2011. 
Movies & TV Shows 
Alexandra Breckenridge is known for her roles in web series like Dawson's in 2000, Charmed in 2002, CSI: Crime Scene Investigation in 2004, Sex, Love and Secrets in 2005, American Dad in 2006, Dirt from 2007 to 2008, The Ex List from 2008 to 2009, Save Me in 2013, Rake in 2014, The Walking Dead from 2015 to 2016, Law and Order: Special victims unit in 2018, and This Is Us from 2017 to 2019.
Similarly, she is also known for movies like Even the losers in 1998, Orange Country in 2002, D.E.B.S in 2003, Mystery Girl in 2004, and many more. 
Interesting Facts About Alexandra Breckenridge
Alexandra first discovered her interest in acting at the age of 13.
Her mother moved to Los Angeles when she was Alexandra was 15 years old so that she could pursue a career in Hollywood. 
She is also very much into photography, and she even has a darkroom in her apartment. 
In 2008, Alexandra hosted her first photography exhibition in partnership with Shalon Goss. The exhibition was hosted by her uncle Michael Weatherly. 
She is also very fond of tattoos and has inked her skin with two tattoos. She has a lettering tattoo on her back and a wings tattoo on her calf. 
In the year 2005, Alexandra was cast in the movie The Jacket. But her scene was cut from the final edition of the movie.