Aisling Bea is an Irish actress, comedian, and a writer.
Since starting her stand-up career in 2011, Aisling has become the first woman to win the Gilded Balloon's So You Think You're Funny award at the Edinburgh Festival Fringe.  She was also named as the Best Female Stand-Up on TV at the British Comedy Awards in 2014.
Aisling came into the limelight after she starred in 2012's Dead Boss and Cardinal Bums. Since then, as a popular female artist, Aisling makes a regular television appearance in the shows including 8 Out Of 10 Cats, QI and A League Of Their Own.
Aisling Bea Married Or Dating?
Well, Aisling Bea is reportedly dating a 49-years-old actor turned political activist, Michael Sheen.
Aisling and her boyfriend Michael first met through a mutual friend. According to the Daily Mail magazine, the couples are dating for four months now while keeping their affair details under the wrap.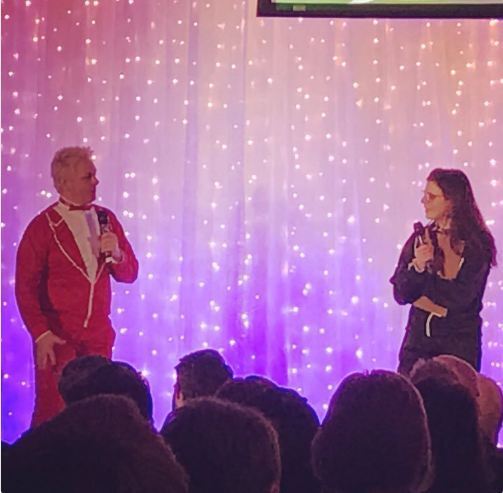 Aisling Bea with boyfriend Micheal Seen at the UK Social Enterprise Awards on 24 May 2017 (Photo: Aisling Bea's Twitter)
Nevertheless, the pair was even spotted enjoying the Oliver Awards in London on 8 April 2018. Although the pair arrived separately in the event, they met up at the after-party in the Natural History Museum and stayed close to each other all evening.
Read Also: Conner O'Malley Age, Birthday, Bio, Wedding, Wife, Net Worth
Previously, Aisling and Michael were seen together at UK Social Enterprise Awards in 2017. But at that time, Michael was in a relationship with American stand-up comedian Sarah Silverman with whom he split in late 2017.
Though the relationship between Aisling and Michael has made the headlines, the two is yet to be open about their relationship.          
Aisling With Gay and Lesbian Characters
Unlike many celebrities, Aisling also does not mind portraying a gay or lesbian character as she believes that the character that she plays on screen doesn't define them in real life.
Aisling also gave a mind blogging performance in 2012's BBC miniseries, The Town, where she played the role of a lesbian. In the miniseries, she even shared a passionate kiss with co-actor Kelly Adams.
Not just onscreen, but Aisling is also very vocal about her opinion in real life. She has been supportive towards the people of the LGBTQ community, and her support is even reflected in one of her tweets posted on 28 March 2014. In the tweet, she had supported gay marriage.
In addition, she previously campaigned for same-sex marriage legislation in the successful 2015 Irish referendum.
You Might Like: Miranda Brooke Wiki, Age, Wedding, Husband, Parents, Bio, Instagram
Aisling Bea's Bio, Family Life
The 34-years-old Aisling was born on 16 March 1984 in County Kildare, Ireland as Aisling Cliodhnadh O'Sullivan.
Her grandfather was the Irish language novelist and poet Mícheál Ó Súilleabháin; her great-aunt was the playwright Siobhán Ní Shúilleabháin.
Aisling was raised along with her younger sister, Sinéad by her single mother, Helen, a secondary jockey-trainer and a former professional jockey. 
Aisling was told that her father, Brian, an equine vet, had suffered a sudden death when she was just three years old. But when Aisling became 13, her mother revealed that her father's death was a suicide. 
Therefore, Aisling adopted the stage name 'Bea' as a tribute to her father and wrote an article on The Guardian in 2017 about her family's experience of suicide.