Wil Willis is an American actor and writer, who appeared in the reality TV series, Special Ops Mission in 2009. The series lasted only one season with six aired episodes. He then made an appearance on Triggers: Weapons That Changed the World in 2011 on American Heroes Channel. In the show, Wil tested iconic weapons, from muskets to assault rifles, and examined their historical significance. It was in September 2013 when the second season of the series aired.
After that, the actor joined the cast of Forged in Fire as a host in 2015. The competition series airs on the History Channel. More of Wil's acting credits include Beerfest (2006), Sovereign (2015), and In the Valley of Elah (2007). The actor also wrote for Waste of Time in 2011.
Wil Willis Military Career
If you're wondering why Wil mostly contributed to TV series that involved military concerns, it is because he went through intense military training. He was enlisted in the Army in 1993 after he graduated from high school. Wil completed Advanced Individual Training and attended Basic Airborne School. He then fulfilled the Ranger Indoctrination Program (R.I.P.).
Don't Miss: Anaridis Rodriguez Wiki, Age, Married, Husband and Net Worth
The veteran served with the Army's Co. 3rd Ranger Battalion on active duty until February 1998.
After cross-training to the Air Force, Wil served at the 56th Rescue Squadron in Keflavik in June 1998. He was a part of a ten-man Pararescue Team. In 2001, the veteran received the Sikorsky Rescue Award for the actions that led to the squadrons' 299th rescue. And in 2002, he was stationed as an Instructor of Weapons, Tactics, and Air Operations at Kirtland, New Mexico.
Wil eventually joined the Air Force Reserves as a pararescueman with the 308th Rescue Squadron in August 2007. He ended his military career after one year of reserve duty in August 2008. His net worth is still under the covers. However, he earned an average salary of $225 per month without tax during his time in the military.
Wil Willis' Family - Wife 
For a person carrying military experience, Wil might not look much of a romantic. But, the case is the opposite. He has two grown-up sons, Caleb, and Jacob from his previous relationship. But the details of his ex-wife are kept in the shadows.
You May Also Like: Langston Kerman Wiki, Bio, Age, Girlfriend, Dating, Married, Height
Unlike his past relationship, Wil is open about sharing the details of his present relationship. He first introduced his girlfriend, Krystal Amina in January 2017 on Instagram. He posted a picture with her and wrote in the caption, 'Follow this amazing girl, or I'll never get laid again. #official.'
It wasn't long before the two got engaged and announced it on their Instagram accounts in March 2017. And on 10 October 2017, Wil and his fiancee got married. His sons were also present at the wedding.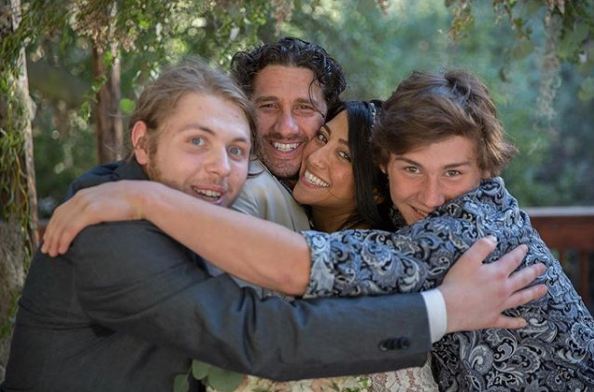 Wil Willis enjoys the wedding with wife and sons on 10 October 2017 (Photo: Wil Willis' Instagram)
The adorable couple never hides their adoration for each other on social media sites. Wil's Instagram feed is filled with the pictures of his wife and sons. That is enough to show that the veteran is more than just a family person.
On their first anniversary, Wil and his wife posted throw-back pictures of the day they got married. Krystal even went to the extent of saying that she was 'proud to call herself his wife.'
See Also: Alistair Barrie Birthday, Married, Husband, Boyfriend, Parents, Bio
Wil Willis Wiki-Like-Bio
Wil was born on 14 February 1975 as per his wiki. He lived on military bases till his father's retirement in 1991. He was raised in a family where he had four siblings. And, he considers his siblings as his heroes.
At the age of 43, Wil stands at the height of 5 feet 11 inches (1.8 meters).