English actor Tyger Drew-Honey was born as Lindzi James Tyger Drew-honey on 26 January 1996, in Epsom, Surrey.
Tyger's professional career kick-started at the young age of nine when he caught the eye of a top London agent while performing in a school production of Treasure Island. Subsequently, in 2007, Drew-Honey was cast as Jake Brockman in the British sitcom, Outnumbered which he carried on till 2016.
Besides, Tyger is also famed for his presenting skills as he lists among the main presenters of the famous CBBC magazine show, Friday Download. He has also appeared in all three seasons of The Armstrong and Miller Show.
Not just acting and presenting, Tyger is also a big music fan as he started playing drum from the young age of seven. He also loves to play guitar and keyboards.
It is enthralling to watch how the 22-years-old possesses versatility in more than a couple of fields. He indeed is a star to watch out for!
A Dig At Tyler's Family Whereabouts
Tyger Drew-Honey was born as a single child to his pornographic actor parents, Simon Lindsay Honey, better known as Ben Dover, and Linzi Drew.
His father, Simon was battling with bladder cancer up until June 2018, when he was cleared of the disease. Lindsay has starred in more than 130 erotic movies in his professional career.
See Also: Byron Langley Wiki, Age, Birthday, Height, Parents, Girlfriend, Dating, Gay
Besides, his mother, Linzi Drew retired from the adult entertainment industry when she became pregnant with Tyger in the year 1995. However, when Tyger was 13, his parents decided to part ways with one another.
Tyger has spoken about his feelings of having parents working in pornography. Speaking to The Guardian in 2015, he mentioned that though many thought their job could make them bad parents, none of that was true.
He received a lot of love and security from his folks and was saddened by their heartbreaking divorce.
Tyger Serious Still With 'Celebs Go Dating' Girlfriend?
The E4 show, Celebs Go Dating, ultimately helps most of the stars to find the date, which they long to have. Same was the case for Outnumbered star Tyger Drew-Honey.
You May Like: Rory Culkin Married, Wife, Girlfriend, Dating, Net Worth, Brother
Taking account of the report from dailystar.com posted on 20 September 2016, Tyger found bliss in his show-found girlfriend, Frankie Little. The 22-years old admitted that things were getting serious between them.
It was also his wish to have kids with Frankie, which made their relationship going on a smooth track. Speaking to OK! Magazine in 2016, Tyger stated,
I'm a believer in a connection, and if we were to be together for a year I would like to be having kids with her.
Well, Tyler was looking forward to settling down and changing his girlfriend tag to wife in a short time. However, no further tune of their relationship has aired in 2018. Whether they are married or have parted ways, it is difficult to presume.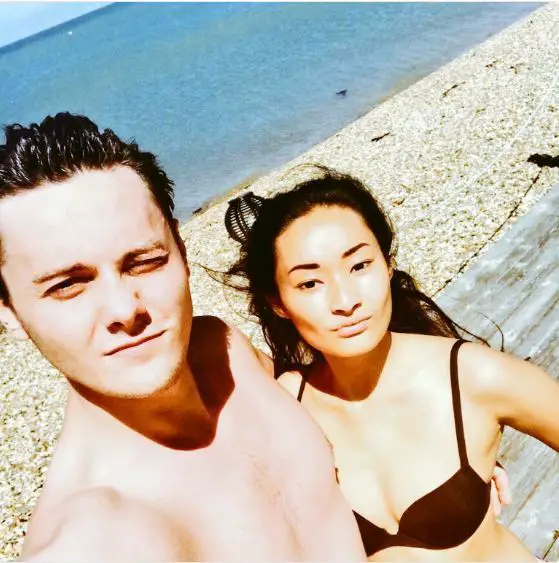 Tyger Drew-Honey enjoys swimming with a mystery girl on 29 May 2017 (Photo: Tyger Drew-Honey's Twitter)
Besides, Tyger's 2017 Twitter post saw him enjoying swimming with a mysterious girl he quoted as his 'special gal.' He didn't mention who she was; however, one of the comments read, 'surprised that gal isn't Frankie. You let such a pretty girl go.'
However, recently Tyger shared a picture with a girl named Fluke C. On her Instagram, she has mentioned herself as a traveler and photographer. Even on her Instagram account, she shares her photo of places she travels. She showcases her talent and shares on her Instagram account.
On 10 May 2019, one of Tyger's fans, commented on his picture together with Fluke saying that Tyger was dating his friend's sister. It is not only one, but Tyler has shared photos together many times.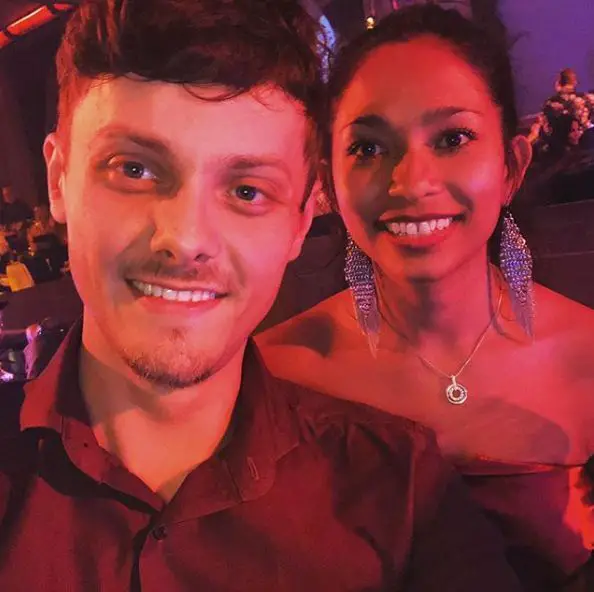 Tyger Drew-Honey spends quality time with his possible new girlfriend at The London Cabaret Club on 10 May 2019 (Photo: Tyger Drew-Honey's Instagram)
Even in his caption, he mentions the girl to be his favorite and all. He also travels along with her, and she is seen with him together most of the time.
Even though he has yet to let the world know about his relationship with Fluke, they look quite adorable together. Maybe one day, he might let the world see the girl who stole his heart without the need for hiding from the world.
Tyger Drew-Honey: A Sexuality Investigator
Besides the charm of acting, Tyger also likes to volunteer on BBC's documentaries. Back in 2015, he did the one investigating youth sexuality.
The show investigated how young people rejected terms such as gay, straight, or even bisexual. Tyger conducted the interviews with the adults, who mentioned same-sex encounters and fooling around with their friends had become the norm.
Don't Miss: Trevante Rhodes Gay, Wife, Girlfriend, Married
Tyger, being a straight man, mentioned that after the investigation he has looked to some guys in different ways. But does that make him bisexual? Well, he just favors that no one should judge others' sexuality and should be what they want to be.