Tim Kang, widely known for his role in The Mentalist as Kimball Cho, prefers a private life, concealing much of his personal details from the public attention. However, it's known that the actor has a daughter, Brianca Kang, with his wife, Gina Marie May. 
Tim Kang Still Married?
Despite being under public attention for such a long time, the Magnum P.I. actor has managed to keep his personal life details away from the public eye. 
His lack of active presence in social media handles also contributes to his private lifestyle. But, the fact that the actor had a daughter with the actress Gina May in 2009 is out in the open. 
Moreover, Kang once made a Twitter post promoting a non-profit childcare campaign where he wrote that his child's safety is the major priority for him as a father. And that's the only time he mentioned his child publicly. Also, it is unknown if Kang and his wife are still together.  

Tim Kang's talking about his responsibility as a father on his Twitter post from 2014. (Source: Twitter)
His Acting Journey
Kang launched his acing career in 2002, appearing in Two Weeks Notice and the Sopranos the same year. Throughout the years, the actor has been a part of nine movies and more than a dozen TV series. 
After a series of short appearances in tv series Law and Order: Criminal Intent, Law and Order: Trial by Jury, Ghost Whisperer, Monk, The Office, and so on, he landed a main role as Agent Kimball Cho in the 2008 series The Mentalist which aired until 2015. 
Receiving considerable recognition as the main role further, he made appearances in The Vampire Diaries, Criminal Minds, Chicago Justice, Lethal Weapon, Cloak and Dagger, etc. He again landed the main role in Magnum P.I. in 2018.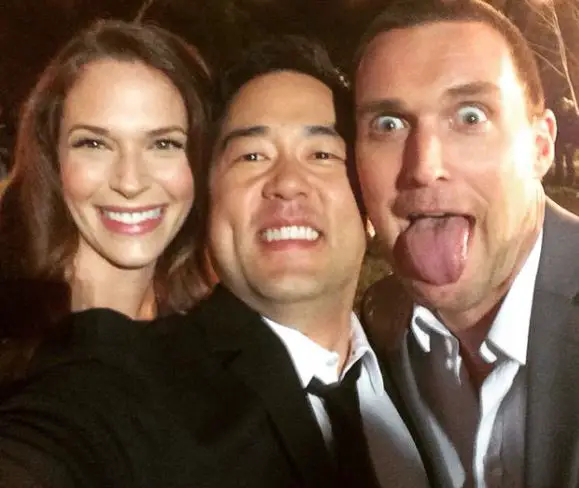 Tim Kang taking a selfie with his co-actors, Owain Yeoman and Amanda Righetti. (Source: Instagram)
A Short Biography: Early Life & Net Worth
The American nationality holder was born on March 16, 1973, in San Francisco and grew up with two siblings. The 48-year-old received his bachelor's degree from the University of California, Berkeley, in Political Science.
And later graduated with a master's degree in fine arts from the Institute of Advanced Theatre Training at the  Moscow Art Theatre and the American Repertory Theatre.
Pursuing arts from the age of 26, the Taekwondo black belt holder has become a reputed personality in the industry and is entitled to a net worth of 4 million dollars, as a source reports.