Welsh actor Taron Egerton is best-known for his portrayal of Dennis "Asbo" Severs in 2014 British TV series, The Smoke. He is also well-recognized for the hit movie like Kingsman series and Eddie the Eagle.
After the big break in his career, Taron was nominated for an Empire Award, a BAFTA Rising Star Award, a Teen Choice Award, and a Saturn Award. Not just that, he had won a Stephen Sondheim Society award.
Besides his professional charisma, Taron enjoys a beautiful bond with his girlfriend, who has been caught making public appearances with him.   
Is Taron Egerton Dating Secretly?
Taron Egerton, who impressed a lot of fans as character Eggsy in a hit movie Kingsman: The Secret Service, created a buzz on the internet. And guess what? He got millions of dedicated female fans who love to have a date with him.
 His female fans are curious to know if he is dating someone behind the limelight? As expected, there were many questions regarding girlfriends or a wife or if he was single and searching for a relationship.
Also Read: Adam Shulman Wiki, Family, Net Worth- Everything You Need to Know 
But remember the time when there was confusion about whether he is gay or straight? Well, that's all cleared with Taron's dating relationship with a girl. But who is she?
Well, Taron's girlfriend is Emily Thomson, a  producer famous for a TV Series, 'Longtime.' In 2017, Taron mentioned his girlfriend in an interview with Heat Radio.  Later, Taron and his sweetheart, Emily Thomson were seen together in the Kingsman premiere show as well.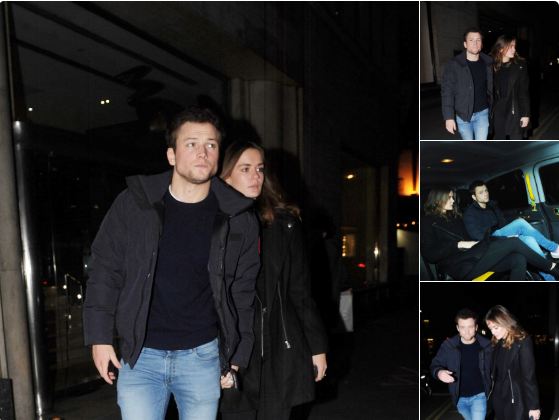 Taron Egerton with his girlfriend, Emily Thomson in London on 22 January 2017 (Photo: Taron Egerton's Twitter)
However, since then, the 28-year-old actor has kept the information of his dating relationship way from the limelight. He has not hinted anything of his love-life in public. 
Taron Egerton's Short Bio
Taron David Egerton was born on 10 November 1989 in Birkenhead, Merseyside, the United Kingdom to parents from nearby Liverpool. Later, he moved to Aberystwyth at the age of 12.
Although he was born in England, Taron considers himself to be Welsh and speaks with a Welsh accent. Taron's father and family ran a bed-and-breakfast, and his mother works in social service.
For his academics, Egerton joined the Royal Academy of Dramatic Art and graduated with a BA (Hons) in Acting in 2012. 
Career Success: 
Initially, Taron began his acting stint at Aberystwyth Arts Centre, before moving to RADA.
Subsequently, he fell in love with acting as a teen after performing in his first production, A Midsummer's Night Dream. He portrayed the character of Flute, a cross-dressing Mechanical.
Taron made his professional acting debut in 2011 with a short role in two episodes of the ITV series Lewis, as Liam Jay. He bagged the Stephen Sondheim Society 'Student Performer of the Year' award in 2011 at the age of 21.
See Also: Ross Worswick Wiki, Age, Height, Tattoo, Job, Net Worth
Taron, with a sexy body and adorable personality, was loved by his fan for his shirtless scene in the movie Kingsman: The Secret Service in 2014.
Later, he made into the main characters of the Sky1 series The Smoke. Besides, Taron was listed as one of GQ's 50 best-dressed British men in 2015 and 2016.
The massive break for Taron came in 2016 when he auditioned for the role of Scott Summers/Cyclops in X-Men: Apocalypse. However, later on, he turned the role down.
Taron is set to feature as Robin Hood in upcoming Lionsgate's movie Robin Hood. Taron will be seen stealing from the rich as the movie releases on 21 November 2018. Besides, it is official that Taron will give his voice to Moomintroll on upcoming animated family drama series Moominvalley, which is set to release in 2019.
Five Interesting Facts On Taron Egerton 
The Kingsman star Taron Egerton is the latest actor to play Robin Hood, but the 28-years old actor will be suiting up as a singer/songwriter/superstar Elton John in a new movie named Rocketman (2019). Speaking with Collider at CinemaCon on 2 May 2018, Taron confirmed that the movie would be a 'fantasy musical' and not an Elton John biopic.
Taron, who appeared in Testament of Youth, also has a great singing voice. He will be singing Elton John's songs himself in the movie Rocketman.
Taron Egerton's latest movie, Billionaire Boys Club had a dismal opening at the box office taking in just $99 in its first day in cinema. However, the failure of the film was not because of actor's fault, but rather because of his co-star Kevin Spacey as he was being accused of historic sexual assaults.
Taron was named one of GQ's 50 best dressed British men in 2015 and 2016.
Despite the facts that Taron considers himself to be Welsh and speaks with a Welsh accent, on the other hand, his mother is not a Welsh speaker. So, he misspelled his name 'Taran' and put an 'o' instead of 'a' and now became 'Taron.