"Labels are for clothes and not for people."
This statement is something the famous American-Indian actor, Sachin Sahel live by.
He broke through all the stereotypes for an Indian actor when he proved to be one terrific actor in Hollywood and was signed in for best of the best movies and TV series.
Sachin, with his hard work and dedication, has proved to be a prominent actor in Hollywood and has attracted over a million fan base worldwide.
All his fans, especially the females, are always keen to know about his personal life.
Having earned a degree in Psychology from the University of Alberta, Sachin has been a force in acting in movies.
Sachin Sahel's Bio: Parent, Ethnicity
Sachin Sahel, age 34, blows his birthday candles on 28th July every year in the presence of his friends and family, being born in 1985.
Although Sachin holds Canadian nationality, he embraces Indian ethnicity as his parents immigrated to Canada from India for better job opportunities before his birth. 
Know About: Sundy Carter Wiki, Age, Husband, Net Worth
Speaking about his family members, Sachin has kept his family life very low-profile.
However, his social media reveals little information regarding his family.
As per his social media, his mother's name is Bharti Sahel, and his older brother's name is Rishi Sahel. Regarding his father's details, he has not disclosed his information yet.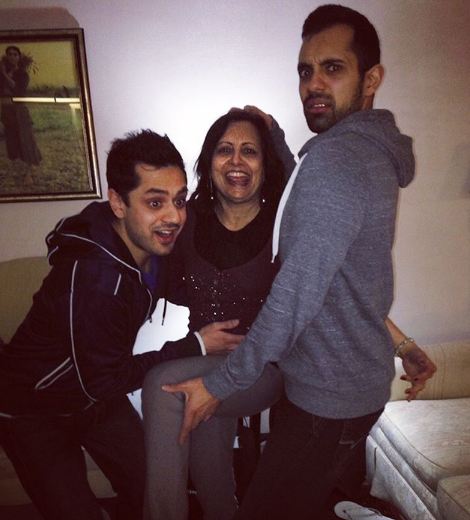 Sachin Sahel posting a picture with his mother and brother on Mother's Day on 12 May 2019 (Photo: Sachin Sahel's Instagram)
Moving on, despite possessing a mixed ethnicity and having been grown with judgemental comments, he set an example in Hollywood breaking all the stereotypes.
Career Details
Sachin started his acting in 2010 with the small guest role.
After he gained his experience as an actor, he starred in series such as Supernatural (2011), Smallville (2011), Arrow (2012), and You Me Her (2016).
Sachin is well known for his appearance in the famous Sci-Fi series, The 100 (2014), where he played the role of Dr. Eric Jackson. 
Sachin Sahel, who was never shown having any love interest on-screen before, has been demonstrated in The 100, where there was the potential romance between him and actor Nathan Miller.
Nathan, who was starred as gay in Season 3, was hinted that he and Sachin were representing as the couple. In a March 2016 episode, they were shown kissing on-screen, with their character development.
You Might Like This: Draya Michele Husband, Boyfriend, Children, Net Worth
Besides the acting profession, Sachin, who stands at the height of 6 feet (1.83 meters), is also a fitness devotee who is ambitious to stay fit. He is also the person who publicly supports anti-bullying.
Sachin Sahel Married To Wife / Girlfriend?
Sachin, being an excellent actor, has left the audience, especially the females intrigued about his personal life.
His dedication and stardom have impressed a million fans who now want to know the secret he has put up his sleeve till now. 
Well, judging by his social media and updates, the guy was doing quite a great job to keep his love life up close and personal.
But, on 14th November 2014, Sachin tweeted something related to a woman who could be his girlfriend.
The tweet revealed that "his girl" was seen in the series, Supernatural season 10, which has kept bullies doubt of him being gay away.
And, now that he admitted to someone being his wife, all the gay speculations about him can rest in peace, once and for all.
Back in November 2017, Sachin wrote in one of his tweets that got married in Paris with this stunner named Tasya Teles- who, as per her social media bio, is an actress and Nutella lover.
Then, on 27 January 2018, he captioned- "Happy wife, happy life!" to the pictures shot with her. And there were a few such declarations in between, where he never stopped calling her his wife.
Last but not least, Sachin wished his girl on her special day, referring her as "mamma".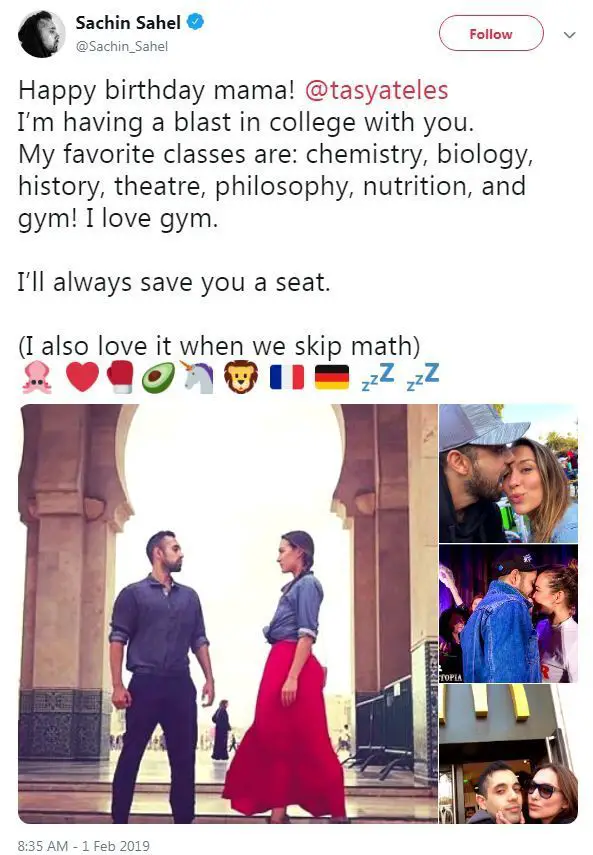 Sachin Sahel wishes his wife, Tasya Teles on her birthday on 1 February 2019 (Photo: Sachin Sahel's Twitter)
Although he is yet to come up with his story with much clarity, as for now, the very bits and pieces of the spilled beans have done wonders to among his fandom.