Nick Hogan is an American actor and a reality star. He is known for his appearances on the reality show Hogan Knows Best and in movies Remainder (2005), Kill Katie Malone (2010), and Masterminds (20120).
Net Worth
According to celebrity Net Worth, Nick Hogan has made a net worth of $500 thousand.
Car Accident
On 26th August 2007, Nick Hogan was involved in a serious car accident in Clearwater, Florida. He and his best friend John Graziano, a former marine, was driving in a Yellow Toyota Supra, and other friends were in another Nick's family car, a silver Dodge on the way to a restaurant for dinner. While driving, the two vehicles began to drag race, and soon Nick lost control of the vehicle and spun across the road, crashing into the median strip and into a palm tree.
Another Television Personality: What's Joe Bastianich Net Worth? Facts & List Of His Restaurants
Nick and his friend John were airlifted to Bayfront Medical Center in St. Petersburg, Florida. On 27th August, Nick was released and was said to be ok, but his friend John who was not wearing a seatbelt suffered severe eye and brain injuries and would require full-time care for the rest of his life.
Whereas Nick was charged with reckless driving, the use of a motor vehicle in the commission of a felony and operating a vehicle under the age of 21 as well as blood alcohol level of 0.02 or higher and illegal window tint. Nick ended up serving six months of his sentence but was released early for good behavior.
Dating Details
Nick Hogan is dating Tana Lea Morton. His girlfriend, who was born on 9th March 1988 in Austin, Texas, USA, is an actress.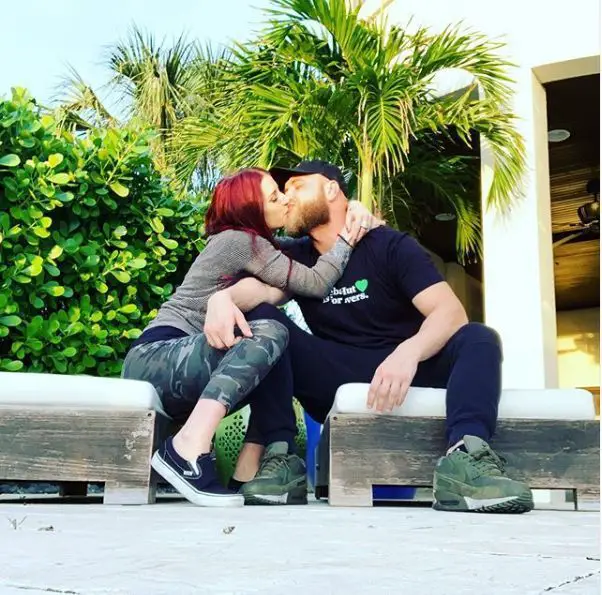 Nick Hogan with his girlfriend, Tana Lea on 19th February 2020 (Photo: Tana Lea's Instagram)
Prior to dating Tana, Nick dated Breana Tiesi for nearly three years. He almost got engaged to her and even bought the ring, but that never happened as the couple got split.
Nick Hogan's Bio
Nick Hogan was born to Hulk Hogan, an American retired professional wrestler, television personality, actor, musician, and entrepreneur and Linda Hogan on 27th July 1990 in Los Angeles, California. He has an older sister named Brooke Hogan, singer and reality star.
Quick Facts
Nick is the youngest child of Hulk Hogan.
At the age of nine, Nick first appeared on television as an interviewee for Hulk's E! True Hollywood Story.
His father began his professional wrestling career in 1977 and gained worldwide recognition in 1983 after signing for World Wrestling Federation (WWE).
According to celebrity Net Worth, Nick's father has an estimated net worth of $25 million.
Nick embraces Italian, Irish, English, Scottish, French, German, and Swedish descent.
Nick's girlfriend gave a glimpse of her romance with her man Nick, sharing the first picture of together in December 2018 on Instagram.