Nicholas Hamilton, an Australian actor and musician, famously known for the movies It and Captain Fantastic, is single as of now. However, many fans suspect he is gay because of his social media post supporting the LGBTQ+ community. But, what really is the case?
Is Nicholas Hamilton Dating?
Based on his posts on social media handles, the Australian actor is probably single. Besides, he has never been rumored to have been with a partner until now. 
However, after his Twitter post on June 1, 2020, several fans suspect he might be gay. In the post, which he made on the occasion of pride month, Hamilton referred to himself as a part of the LGBTQ+ community and wrote:
Today is the first day of Pride Month. I speak on behalf of the whole LGBTQ+ community when I say we stand with our black brothers and sisters. Just because it is the start of our month.
Although he hasn't clearly talked about his sexuality, the post was enough for his followers to question his sexual orientation. As for his dating status, the It star, who just turned 21, is way too young to settle in a serious relationship this soon and might be focusing mainly on his career.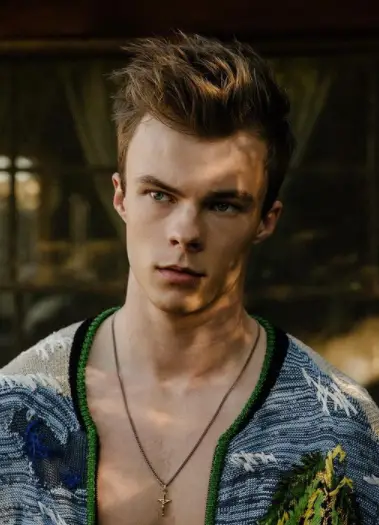 Nicholas Hamilton posing for a magazine photoshoot. (Source: Instagram)
Learn More About His Career
The award-winning actor has already made remarkable achievements through his most renowned work in the movies Captain Fantastic, It and It Chapter Two. 
Kick-starting his career in 2013, with a short film Time, Hamilton has been a part of over a dozen projects. The most recent ones are the fantasy romance film Endless, released in 2020, and the American teen series Love Victor, currently airing on Hulu. 
And, for his outstanding performances, he won Tropfest Short Film Award for Best Actor for Time and received two nominations for Captain Fantastic. 
Apart from acting, the musician showcases his passion for music through his debut single Different Now, followed by the singles noRoom and In Line in 2021.   
What Was Hamilton's Childhood Like
Born to his parents Vicki and Craig, Hamilton was raised in Australia with his brother Joshua "JJ" Hamilton and his sisters Rebecca and Rachel. 
The actor grew up close-knitted with his family members and recently celebrated his 21st birthday with his family in Australia. Moreover, Hamilton attributes his pursuance in acting to his uncle, who died of cancer in 2011.