Today, the entertainment world has become a home to many talents, where many have been lucky enough to get the recognition they merit for their endeavors. Thereof, people like Michael Vlamis have been fortunate because their talent and skill in the art has been getting the recognition they deserve. He has proved his mettle in various facets of the industry, especially as an actor.
Michael got the major break after he starred in the CW television series Rosewell, New Mexico, which took his career to the next level and propelled him to superstardom.
Michael Vlamis' Wiki (Age)
Michael Vlamis was born on 27 March 1990 in Chicago, Illinois. He has two sisters Kelsey Vlamis, journalist, photographer, collector of experiences, and Stephanie Vlamis. 
Dating Girlfriend?
Michael is currently dating a girl named Ariel Frenkel. Other than that, he has not opened to the public about his relationship.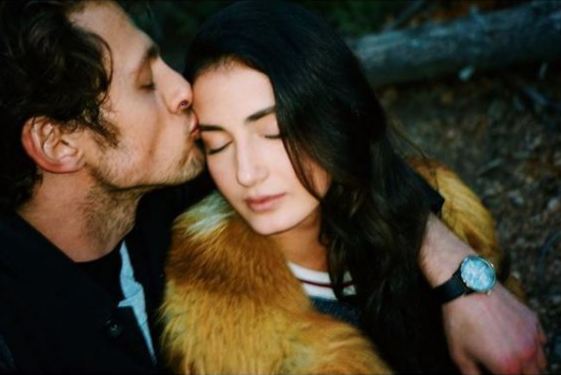 Michael Vlamis with his girlfriend, Ariel Frenkel on 19th August 2019 (Photo: Michael Vlamis' Instagram)
Prior to Ariel, Michael was dating someone else before landing on the iconic role of Michael Guerin in the CW's new Rosewell reboot for millennials: Roswell, New Mexico.
On-screen Gay
In the series, Rosewell, New Mexico, Michael has presented himself as bisexual pairing with the character Alex Manes portrayed by an actor Tyler Blackburn, former high school flame turned war veteran. The two-actor portrayed the role very magnificently and also looked electrifying together. They also shared a kiss far more passionate than people tend to see depicted in LGBTQ relationships on TV. 
Career
Michael first made his acting debut in 2009 when he worked in two short videos, One Good Apple and Chocolatits. For some years, he struggled in getting prominent roles but kept on working on short videos. In 2013, he finally received a prominent role of Hipster Jerkwad in the series New Girl. However, even after the leading role, he again only received small parts until 2017.
Look For Another Actor: Tate Ellington Bio, Age, Wife, Married Life, Movies & More
In 2017, Michael got a chance to portray three characters Michael, Tommy Salami, and Mike, in the series Vlamcarter. Soon in 2019, he received the role of Michael Guerin in the TV series Rosewell, New Mexico (2019 — 2020).
Now, his two projects are under post-production (5 Years Apart) and pre-production (Pools).
Quick Facts of Michael Vlamis
Michael's birth sign in Aries.
He stands at the height of 5 feet 11 inches (1.8 meters).
He is a Chicago native but now resides in Los Angels.
On 20th September 2018, he wished his parents on their 31st marriage anniversary.
He wished his father Peter on his 78th birthday on his Instagram on 19 July 2018.
Michael wished his mother on her birthday on 20th May 2017.
On 24th November 2018, Michael posted a family picture posing for Thanksgiving dinner.