Mel Rodriguez is best known as an actor for his performance in Little Miss Sunshine, The Watch, and Panic Room.
However, before making his debut as an actor, he first pursued his career in boxing.
But his life path changed when his high school-teacher led him onto the road of acting.
Mel Rodriguez's Net Worth As An Actor 
It was at the age of seventeen when Mel first starred in an AIDS awareness play entitled, The Inner Circle, with Cuban-American AIDS educator and television personality, Pedro Pablo Zamora.
After all highs and lows, Mel made his debut on screen by appearing on the legal drama television series, Law & Order. 
Entertain Yourself: Alex Blue Davis Wiki, Age, Wife, Height
Mel then moved to Los Angeles to pursue a higher level of career in the film industry than stage career.
Eventually, he got a role in the full-length comedy feature film, Wirey Spindell.
Ever since Mel stepped into the entertainment industry, Mel has portrayed several different characters. In 2013, he portrayed the role of gay in the TV series, Getting On, stunning the audience with his graceful act. 
Because of his acting skill and talent, Mel has received prominent roles in TV series and movies. From the character portrayals, he has earned better fame and economic fortune. However, he has not revealed his exact net worth. 
Mel Rodriguez's Married Life
Mel is happily married to his wife, Desiree Dundr Rodriguez. With the support of Mel's wife, he has accepted every challenge and has shared joys and sorrows. 
Mel and his wife experienced several problems in the past and were even homeless once. But even after all troubles, not even for a second did they think about leaving each other sides. 
Mel and Desiree's marriage union has produced two daughters, and the arrival of their second baby has brought them more happiness in their family.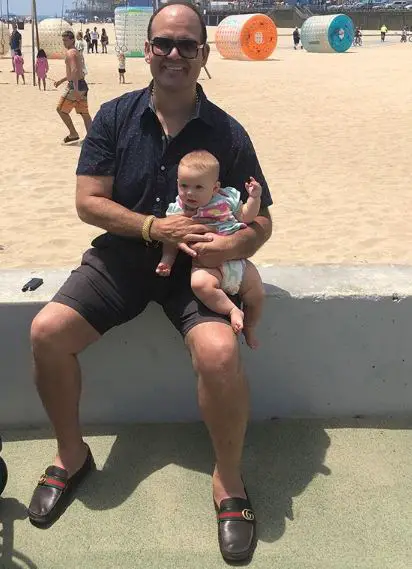 Mel Rodriguez poses with his second daughter on 4 August 2019 (Photo: Mel Rodriguez's Instagram)
Mel often posts adorable pictures of his first daughter Stella and their newborn baby on his social media accounts like Instagram and Twitter. 
When he returns home from his work, Mel's stress goes away when the three most beautiful ladies of his life greet him. 
Bio: Age, Family 
Mel was born on 12th June 1973 in Miami, Florida with the real name, Melvin Dimas Rodriguez.
While talking about his family, he had very supportive parents. When he shared his desire of becoming an actor to his parents, his mother was a little fearful, but his father was very cool with his passion. 
Continue Reading: Eric Stonestreet Wife, Gay, Family Background
With the full support of his parents, Mel has made it to the top making his parents proud of him. 
Moving towards his attributes, Mel stands at the height of 6 feet (1.83 meters) possessing a healthy body weight.
Although he feels comfortable with his weight, he shared that he has faced challenges in the industry due to his size. Moreover, Mel has started working on his weight and has joined the gym to become healthier.