Major Curda is an American actor who has achieved a lot of success at a young age.
For his mind-blowing performances in The Little Mermaid, he was nominated for a Young Artist Award in 2010.
Additionally, he was honored with the Child Actor Recognition Award in 2010 and 2011 for his outstanding acting, academics, and community involvement.
As a promising actor, Major has undoubtedly garnered a remarkable sum of money, but he has not unwrapped the exact amounts of his net worth yet. 
Major Curda's Bio: Age, Parents
Major Curda was born on 12th July 1999 in Florida. He was one of the five children born to his parents.
He is the younger brother of Riley Curda and Piper Curda and older brother of Glory Curda and Saylor Curda. 
Enjoy Reading: Niles Fitch Wiki, Age, Birthday, Height, Parents
Talking about his four sisters, they are all involved in modeling and acting.
His older sister, Riley has appeared in Marvin Marvin, As I Grow and Voices of Our Own and another sister, Piper has performed in I Didn't Do It, A.N.T. Farm and Body of Proof. 
His younger sister, Glory, has acted in Sam & Cat, Law & Order: Special Victims Unit and Make It or Break It, whereas Saylor is credited with I Didn't Do It and Rule the Mix. 
His father, Stephen K. Curda, was from Korea and was adopted by Barbara Yvonne (Davies) and Jack Joseph Curda. He was a Brigadier General in the U.S. Army. 
But Major's mother, Leslie Curda, was of Scottish origin. So, Major holds a mixed ethnicity from an Asian and English family.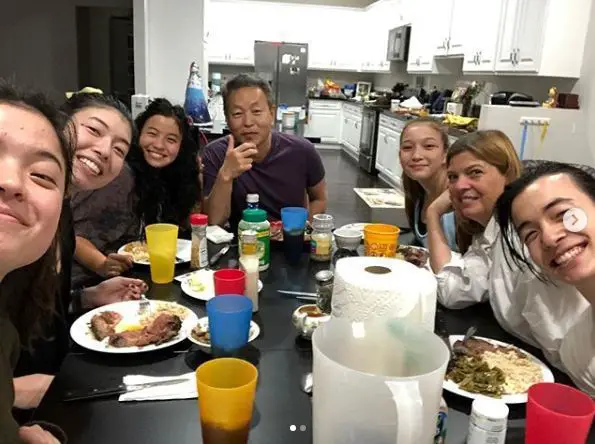 Major Curda with his family members on 26th December 2018 (Photo: Stephen K. Curda's Instagram)
Major's parents are always supportive and motivating to him and his siblings.
Since all his sisters are also in the entertainment industry, it is hard for his parents to manage all the things like education, acting contracts, but they somehow maintain it all. 
Major began acting and dancing from a young age following his older sisters. At the age of just 9, he made his Broadway debut in Disney's Little Mermaid.
Managing his time for acting by attending an online high school, Major has performed in several TV shows and movies. He has performed best in CW's Riverdale, Children's Hospital, and The Young and the Restless.
As of 2019, the young and handsome actor is 20 years of age and stands at the height of 5 feet and 9 inches (1.75 meters).
Major Curda Dating?
Major Curda, running in his twenty, has not revealed any information about his dating life.
So to this date, it is unknown whether he is dating a girlfriend if he had any or not.
See Also: Brock Ciarlelli Age 25 Bio: Is He Gay? Boyfriend & Dating Status
Maybe the young actor hasn't made any intention to enjoy his love life since he is advancing in his career.
So, there are chances that he is focused on developing his career rather than managing time for dating.
However, his fans and followers are always curious to know the romantic side of thier amazing artist.
But from Major's side, there are rare chances of releasing his love life soon.
So for his eager fans and followers, it is evident that they must be passionate for some time to see his personal life.