The renowned History channel reality star Lenny DePaul has dedicated most of his life to protecting the nation, tracking down hundreds of criminals for decades. Amid all the stress and frustration that came with his service in U.S Marshals and Fugitive Task Force, he always separated time to be with his family and enjoy a quality life.
Lenny DePaul's Happy Married Life
The tv-personality has all his professional life laid out in the open, but his married life is somewhat a mystery. As per a fragment in a Newsday article, DePaul's wife's name is Ellie, and the couple has been living together in Lake Grove since 1999. But, he has children from two marriages and refuges to talk about his relationship details. 
Although he hasn't shared any information about his wife, the proud father doesn't hesitate to flaunt his kids on his social media handles. According to his Instagram, the retired US marshal has a gorgeous daughter Nikki DePaul and a little son LJ. On September 8, 2019, he shared the 18th birthday celebration of his daughter on Instagram, and the family celebrated Nikki's special day with a dinner in a restaurant. 
Moreover, he shares all the special memories of his kids on Instagram. In 2016, when Nikki was a senior high schooler at Ward Melville High School, DePaul posted a picture of his daughter with a trophy she won for cheerleading. In another 'gram post of 2019, the man-hunter shared his daughter was off to High Point University and wrote that he missed her a lot.  
Likewise, he also takes to Instagram to wish his little son LJ on his birthdays and share outdoor moments with him. The loving father makes most of his time spending it with his kids, doing all sorts of fun activities from going to watch games together to surprise them with a larger-than-life teddy bear on Christmas. 
Furthermore, Nikki's social media post revealed that her mother had cancer in 2016. Sharing a picture with her mother, she wrote, 
To my partner in crime and the best mother, anyone could ever ask for let's kick cancer's butt together! Love you forever and always.
However, there haven't been any more updates on her mother's illness ever since.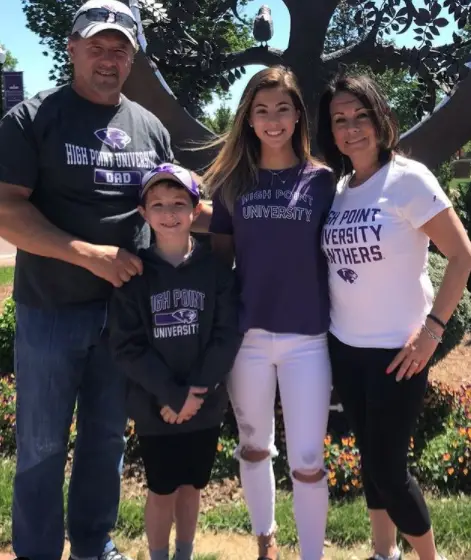 Lenny DePaul with his wife and kids. (Source: Instagram)
Where Is Lenny DePaul Now? A Brief Biography
The former US Marshal, known as one of the respected manhunters in the world, has been in the service for over three decades. The decades of chasing notorious criminals, drug runners, and terrorists and doing what several agencies failed to do make him a success story in his service. 
The head of the US Marshal Fugitive Task Force retired from his service in 2013 who is known to have averaged more than a hundred fugitive arrests each week. Before serving as the US Marshal, DePaul was a US Navy officer from 1976 to 1984. 
He entered the world of television in 2008 with his debut reality tv series Manhunters: Fugitive Task Force, where the US Marshals hunted down America's most wanted fugitives. With the success of the series, DePaul did several other series and is most known for America's Greatest Prison Breaks, Hunted, and Hunting Hitler. 
He must have amassed a million dollars of net worth from his incredible success with television, but the actual figure is not known yet. Currently, the Hunted star works as a private investigator and resides in New York with his family. 
Lenny DePaul. ( Source: Instagram)