A person can be successful in any field if he worked hard with determination and passion. The statement is proved by American actor and former professional Slamball player, LaMonica Garrett. 
With a childhood passion of becoming an NFL player (in fact he was named after Notre Dame/ Oakland Raider stand-out quarterback, Daryle Lamonica since his parents were his fans), he tried his best to reach his aim but failed. So he chased his other passion to become an actor and experienced some time as a professional Slamball player but eventually, he succeeded to achieve his second dream. 
By now, he is a renowned personality in the American entertainment industry best known for his roles in TV shows like The Flash, Arrow, Designated Survivor and movies like Primal, Clemency, and XOXO.  
LaMonica Garrett's Bio: Birthday
LaMonica Garrett was born in San Francisco, California, the USA, on 23rd May 1975. 
He attended Burbank High School in Los Angele, California and Central State University in Wilberforce, Ohio. 
Height
LaMonica Garrett stands at the height of 6 feet and 2½ inches (1.89 meters). 
Married To Wife
LaMonica Garrett is married to Mina Ivanova, a publicist, and actress. The couple is blessed with two children; a daughter and a son born on 30th November 2019.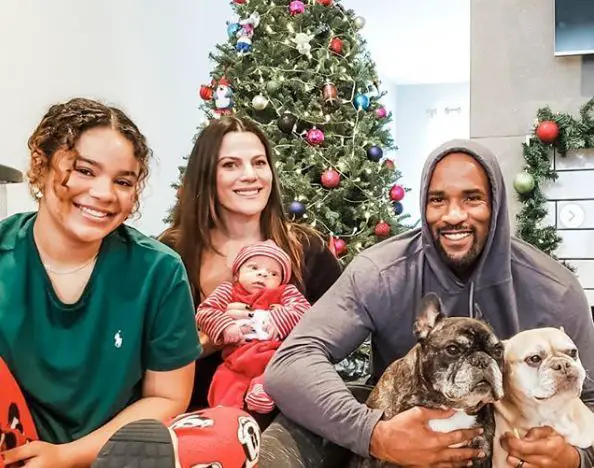 LaMonica Garrett with his family members on 26th December 2019 (Source: LaMonica Garrett's Instagram)
LaMonica and Mina tied the knot on 27th April 2017 after being together for twelve years.
Growing Up & Career
LaMonica Garrett played football during high school. After high school, he went to a junior college in Los Angeles, where he played as a linebacker. Then he was transferred to Central State University in Ohio, where he continued his football passion. He had a dream to be an NFL player, but unfortunately, he was not picked up despite being a good player. 
Since his NFL dream didn't work out, he selected his other interest, which was acting and moved to Los Angeles to pursue a career in it. However, there also, he ended up playing professional Slamball, a hybrid between basketball and football. During his Slamball career, he became the league's leading scorer, and one of four players announced for the All Slamball Team. 
Soon his acting career began after he was cast as Jerome in a 2008's episode of TV series, One Tree Hill, while he was still a Slamball player. After that, he began to get many minor roles like Darin in the TV show, DialStar in 2010, and as Chris in the TV series Dark Blue in the same year. 
Know More About: Actor Sean Ward Bio: Age, Dating Status, Girlfriend To Family Insight
Then from 2011 to 2014, he landed a recurring role of Deputy Sheriff Cane in the TV show, Sons of Anarchy. In 2015, he was seen as Marco in the movie, Daddy's Home and as Derek Gates in the TV movie, Untitled NBA Project. 
From 2016 to 2018, he appeared with major roles in the two TV shows; Designated Survivor as Mike Ritter and The Last Ship as Lt. TAO Cameron Burk. From 2018 to 2020, he played the role of Mar Novu in the TV show, Arrow, and at the same time, he also portrayed the character of The Monitor in the TV show, The Flash.
In 2019, he was cast as Major Logan Cartwright in the movie, Clemency, and as John Ringer in the film, Primal.