Jordan Bolger, when he was seven, the world-famous writer and dub poet, Benjamin Zephaniah, visited his primary school. Little did he realize that he would be playing the famous star's son 'Isiah' in the hit British television drama, Peaky Blinders.
The script of the TV show, set in the aftermath of World War I unbelievably came Jordan's way and changed his whole life for good.
He came to know about the ad for Peaky Blinders, where the makers required a mixed-race boy with a Birmingham accent.
Jordan then thought the requirements described him only and thus, went for an audition. By this time, the season first had run successfully, so he made sure to Binge-watch the complete season in two days.
And, against all the odds, he got the call to join the team the very next day.
Keep Up The Read: Alex Blue Davis Wiki, Age, Wife, Height
And with that, his fantastic portrayal of 'Isiah' opened the door for movies and tv shows like 2017's iBoy, 2014's The 100, and the feature drama, Scarborough.
Besides acting, he has always been passionate about dancing. He even graduated in Dance from Tring Park School.
Jordan Bolger's Wiki, Family
Jordan grew up in Radford in Coventry, England with his older brother, Daniell. Daniell, a graduate of criminology, shares an incredible bonding with his brother.
While in Coventry, Jordan went to Holy Family, Christ The King and Cardinal Newman schools.
Jordan's mother, Liz, is a gym instructor, and a single mother who raised her two boys single handily. For this, Jordan is forever, grateful towards his mother.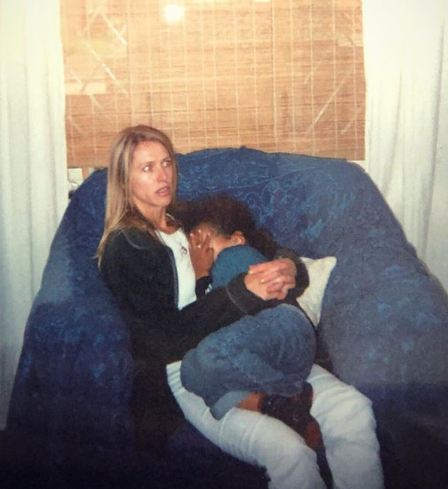 Jordan Bolger wishing his mother on the Father's Day on 18 June 2018 (Photo: Jordan Bolger's Instagram)
Jordan makes sure to wish on her Father's Day as well, for she stepped out both parents. She never let them feel the void of a father's absence.
When asked about his father, he cites the matter as a complicated one. Jordan grew up without really knowing about his dad.
He said that the Jamaican man is not part of his family. Although his father did nothing to contribute towards his upbringing, he sure played his role in providing him with a multi-racial ethnicity.
Dating Life: Girlfriend / Gay?
Jordan has an ever-growing fandom over his social media. He has a great many followers, especially the lady mass swooning over his appealing looks. 
Jordan, who stands to a height of 5 feet and 10 inches (1.78 meters), must have got inspired by his gym-instructor mother for he is the owner of such a well-groomed body. 
More From Young Actors: Froy Gutierrez Girlfriend, Gay, Net Worth
The aspiring actor now amidst making a name for himself in the industry, has made no comments when it comes to his dating life. That may be the reason some speculations are being made on his being gay. 
However, it is too soon to reach to baseless conclusions. Jordan is currently at the age of 24, and in such a scenario, it is apparent that his foremost priority is his career.
Nonetheless, his Instagram gallery reveals a picture of him with a beautiful girl sharing a kiss.
Jordan Bolger with his "maybe" girlfriend on 22 November 2016 (Photo: Jordan Bolger's Instagram)
But, there is no further evidence or captions to the real deal behind the scenes. It might be just a friendly gesture from a friend or even might mean something more from a girlfriend.