John Hoogenakker was always meant to land a career in Hollywood in some way or another.
Early on, John started out as a child actor in the industry starring in the local shows at the Children's Theatre in Charlotte, North Carolina.
Amazon's highly anticipated drama series Jack Ryan star then went onto graduate from The Theatre School at DePaul University in Chicago.
A twice state and district champion in the Humorous Interpretation, soon found his calling on stage
John soon started appearing in the best plays in shows at The Goodman, Writers' Theatre, Court Theatre, Chicago Shakespeare Theater, and the famous Steppenwolf Garage.
Get To Know: Sam Adegoke Wife, Dating, Family, Ethnicity
The ever getting bigger passion for drama indeed helped him in playing the most vivid and dynamic characters on several highly acclaimed TV shows.
John Hoogenakker's Bio(Age)
John, who is yet to reveal the numbers to his age, was born to his father, who worked in the investment business and was also a part-time actor in local theater and commercials.
John, who partly followed in his father's footsteps, saw his father, Jerry Wayne Hoogenakker, on the 12th of August 2019, from the complications arising from a fall.
The Hoogenakkers sure struggled to cope with the loss of their beloved one.
Notably, John's mother, Alice Hoogenakker, met her man for the very first time in a Sunday School class at Myers Park Baptist in 1973.
More to John's family is his sister, Kiersten, who now is a happily married woman.
Commercial Gone Viral! 
Yet another sudden prominence knocked on John's door apart from all his acting credits in the versatile platforms.
It was the 2017's August, and John won a role in some commercials through a Skype casting season.
He never stressed over it, considering it to be just some assignment of his career until it went sensational and all over the television.
His exact words about the uncalled for success in the Bud Light's "Dilly Dilly King" being-
It was going to be one commercial.

I had no idea, no idea it would go this far. For some reason, it really struck a chord. 'Dilly dilly'? It's just a funny sounding thing to say. I think nonsense unites us...Everybody is surprised by how this thing has gone viral.
The very project only added up to his existing fame and yet to be unwrapped net worth.
Married To Wife?
John is not just married to a beautiful wife but also a proud and loving dad to his two beautiful kids.
And his lady love, Kelly Holden Hoogenakker, makes sure to let everyone a little bit of peeking into their happily-ever-after family.
See Also: Jeffree Star's Partner Nathan Schwandt Age, Brother, Family & More
Despite John's unceasing efforts to keep his personal life to himself, fans are happy that some of it are out in the media and public- all thanks to his gorgeous wife.
Joyous and committed to her family life, she often boasts how good of a husband and father John is.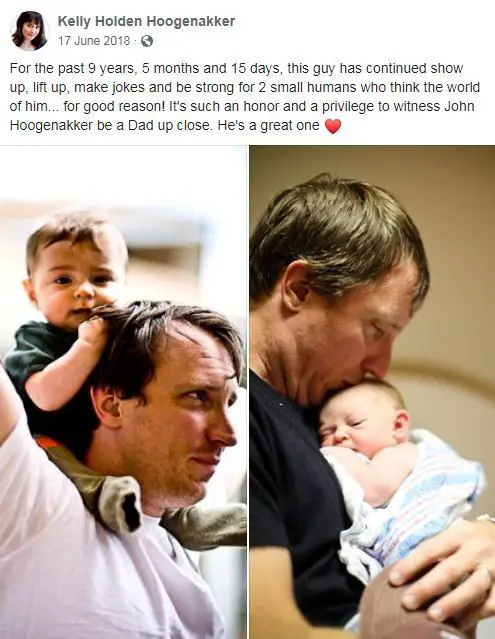 John Hoogenakker's lovely wife, Kelly Holden Hoogenakker admires her husband being a good father to their children on 17 June 2018 (Photo: Kelly Holden Hoogenakker's Facebook)
Over the 18 years of getting to know one another as husband and wife must have been incredible.
The family of four reportedly lead their day to day in someplace safe and away from the prying media eyes in Chicago.