The Game of Thrones actor Joel Fry is a prominent actor known for his brilliant work in the entertainment industry since 2006. Gaining massive popularity for his acting skills and charming look, he has his fans intrigued to know what his real-life romance is like. But, Fry being an extremely private person, hasn't yet spilled anything on his most anticipated love life. 
Is Joel Fry Dating? 
As open as Joel is about his professional life, it is the exact opposite of his personal life. It cannot be assumed that he might be dating any partner secretly because he has never been spotted with a girl who can be speculated to be his girlfriend.
However, even though Joel's off-screen love life is a mystery, his on-screen romance can be seen in the TV series Requiem, where his character, Hal Fine, falls in love with the character, Matilda, played by Lydia Wilson.
Because of Joel's crucially low-key love life, people started speculating him to be gay. However, as Joel has never talked about his sexuality, the rumors considering him as gay can be baseless.
Who Is Joel Fry?
Joel Fry is a British actor born in 1983 in London, United Kingdom. Holding British nationality, he embraces a White British ethnicity. 
Moreover, being interested in acting from a young age, Joel attended the Royal Academy of Dramatic Art. 
The Trollied actor, who stands at an astonishing height of 6 feet 1 inch, has amazed the audience through his talent and acting skills. 
Besides being known as an excelling actor, Fry is also a musician with expertise in playing several instruments, especially in guitar. 
Learn More About His Career and Net Worth
Upon his graduation, Joel's career as an actor began. However, it is not easy to reach the top without any hard work and dedication. Likewise, Joel worked consistently to get roles in television or films. 
In 2006, Joel first received his first role in The Bill, a British television series, where he had a recurring role for two episodes. Even though he had small parts, he did not miss the chance to flaunt his talent in the respective field. 
Then in 2007, Joel got the chance to star in two different shows, Sound, where he portrayed Swing and Casualty as Sexton Arnold. 
Initially, right after Joel starred in TV series and movies, he got the chance to star in the film titled 10,000 BC. In the film, Joel portrayed the character of Lu'kibu.
The first film became the turning point in his life as he started receiving more prominent roles after that in series including Massive, No Signal, The Bill, The Impressions Show with Culshaw and Stephenson, Public Enemies, White Van Man, Trollied, and many more. 
Nevertheless, Joel made a short but everlasting appearance in the hit series Games of Thrones as Hizdahr Zo Loraq. Even though he only made his appearance in seasons 4 and 5, Joel's name was carved on people's tongues.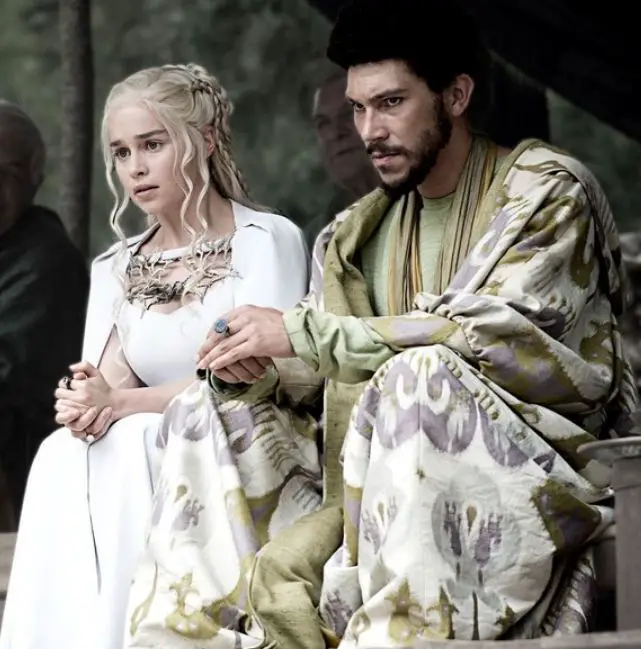 Joel Fry in the series Game of Thrones alongside his co-star Emilia Clarke (Source: zimbio.com)
Recently, Joel has been busy with his new project, In the Earth, Cruella, and Our Flag Means death.
Since the beginning of his career, Joel has not ever looked back but has always moved forward, reaching the height of success. As an actor, who has been in dozens of movies and tv shows, he might be enjoying his net worth in a million or more.