The natural role portrayal by some actors insists on believing that some people are born to act.
Jerry Trainor started off at a tender age as an actor. He is still sustaining in the showbiz industry with his extraordinary approach towards every role. Having worked as a vendor before, Jerry was magnetized by his natural acting skills garnished by his artistic academics.
Jerry Trainor Age, Family
Jerry Trainor was born to Bill Trainor and Madelyn Trainor on 21 January 1977 San Diego, California. The actor with a height of 6 feet 2 inches (1.88 meters) was given the name Gerald William Trainor during his birth, which he later shortened to Jerry Trainor.
He is very close to his sister, Liz Trainor. On Jerry's birthday in 2018, Liz even sang a song for her brother, which he mentioned as a birthday miracle. There is no official report of Jerry's siblings other than Liz in his family.
You May Also Like: How Old is Ethan Wacker? His Age, Birthday, Height, Family, Shirtless, House
Talking about his academics, Jerry attended the University of San Diego High School and later graduated with the degree of BFA in Drama from the University of California.
Married To Wife Or Gay?
Jerry Trainor is in a relationship with his long-term girlfriend, Jessica Makinson. Jerry and Jessica met on the sets of "iCarly." The couple has been dating since May 2008, but there are no reports of them getting married any sooner.
Even though Jerry and Jessica have been together for than a decade, it seems like Jerry doesn't like to refer to Jessica as his wife.
Nevertheless, their long-lasting relationship suggests that the couple is very much into each other and have known each bit of the other for the lifetime bond.
Besides, Jerry's romantic involvement with his girlfriend for this long has given no place for people to address him as gay.
Jerry Trainor Career / Net Worth
Before his acting career started, Jerry worked as a vendor, selling churros and cold drinks to the visitors at the SeaWorld.
He debuted in TV at the age of 23 with the 2nd season of the MTV series, Undressed. Jerry's first film was Donnie Darko, where he played The Lanky Kid, followed by his cameo appearance in the science fiction comedy, Evolution. For many years after this, Jerry kept guest-starring and doing uncredited roles in TV shows.
Jerry's real breakthrough was Nickelodeon's Drake and Josh, where he played the role of Crazy Steve.
However, the real "rise to fame" role for Jerry was of Spencer Shay from the TV series, iCarly (2007-2012). After his spectacular portrayal of Spencer, Jerry was offered with many big commercial movies both as lead and support.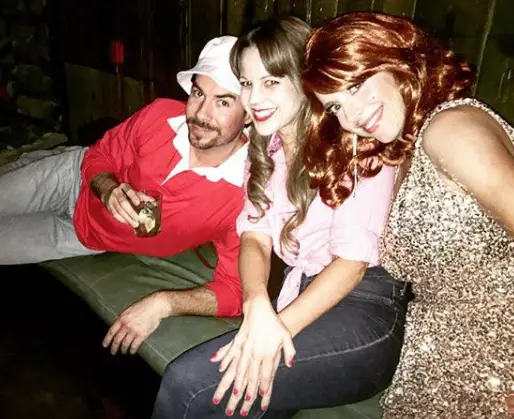 Jerry Trainor poses with his co-actresses on the set of the show Gilligan's Island on 28 October 2019 (Photo: Jerry Trainor's Instagram)
As of now, he is doing a web show called The Poach.
Counting from his struggling days, Jerry has spent nearly 2 decades in the industry. Till date, he must have garnered a weighted amount of property and net worth.