Isaac Lupien is one of the few people who are able to grab their aims at a young age. He is an accomplished Canadian dancer, choreographer, and actor. 
As an actor, Isaac began by performing in the movie, Flash of Genius, in 2008.
In 2013, he acted in the TV series, The Next Step, which gave him popularity in the acting field. He has also played in the movie, Dance Together. 
As of 2019, Isaac is working as a dance teacher and choreographer at his parents' dance studio, Canadian Dance Company, which is one of the most successful studios in Canada. 
Isaac Lupien's Wiki: Age, Parents
Isaac Lupien was born on 30th March in Oakville, a suburban town in southern Ontario, Canada. The 24-year-old actor is the youngest of the four siblings born to his parents.
His father, Allain Lupien, used to work at his mother-in-law's music studio, The Dot Blakely Studio, located in Simcoe, Ontario.
Later, his father and mother, Dawn Lupien, established the Canadian Dance Academy in 1985. 
Worth Reading: Toni Costa WIki Age, Net Worth, Wife, Kids
Following their parents, all three of Isaac's older sisters are also involved in dancing and acting.
One of his sisters, Samantha Lupien, is a trained dancer in Jazz, Tap, Ballet, Hip Hop, and many more.
She currently works as a dance teacher at her parent's company. Another sister, Lindsay Lupien, is an actress best known for The Santa Clause. 
Similarly, Tabitha Lupien is also an actress and dancer known for Look Who's Talking Now, Ready or Not, People of Earth, and many more.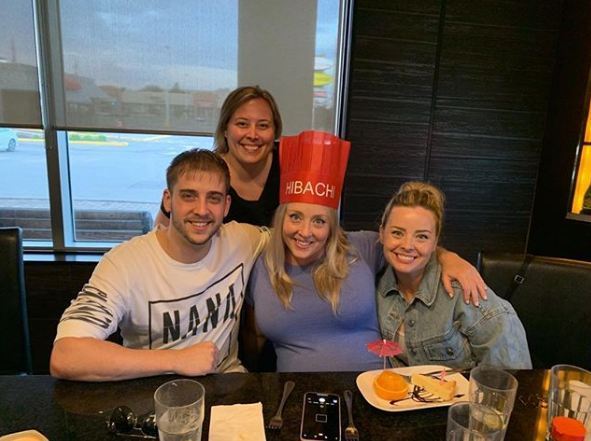 Isaac Lupien with his siblings on 18 July 2019 (Photo: Isaac Lupien's Instagram)
As of his own, Isaac was interested in dance from a young age. He began taking dance lessons at his parents' dance studio when he was just 2.
When he reached teenage, he began excelling in different forms like jazz, ballet, and contemporary. Later, he also learned tap, hip-hop, and tumbling. 
Isaac, standing at the height of 5 feet and 11 inches (1.8 meters), began participating in various dance competitions soon after finishing his training.
Most notable of his performances were the 2008 IDO World Championships in Riesa, Germany, where he received a bronze medal and The 2011 Dance Award in New York City, where he stood as the runner-up teen male dancer.
Additionally, he also won the senior VIP at the Jump Dance Convention in 2012. 
Isaac Lupien Dating Girlfriend?
Isaac Lupien is quite secretive regarding his personal life. He has not revealed any information about his love life.
Another Dancer: Brian Puspos Bio, Net Worth, Wife, Girlfriend
So to this date, it is still yet to be disclosed whether he is dating a girlfriend if he has any or single. 
Perhaps, the young artist is more focused on his career and doesn't want to get disturbed by public attentions due to his relationships.
Whatever the reason, he has his fair share of on-screen love affairs to share with his eager fans and followers who always showed a keen interest in knowing his love life. 
In the series, The Next Step, Isaac playing the role Eldon can be seen in various relationships. Isaac portraying the young and handsome head choreographer, was first in love with Emily.
After some time, they broke up, and Isaac began a new relationship with another character Michelle.
This on-screen pair also didn't last long, and Isaac is currently in a relationship with his new girlfriend, Thalia.