Internationally successful actor Hugh Quarshie is best known for his role as Sunda in Highlander and Captain Panaka in Star Wars: Episode I: The Phantom Menace. 
Although he graduated with a degree in Politics, Philosophy, and Economics from Oxford University, at a certain age, he chose to fulfill his career in movies rather than journalism. 
Hugh's other works in movies and TV shows include his appearances in Nightbreed, playing Ric Griffin in the long-running BBC medical drama, Holby City, in 2001 and many more. He even appeared in the two episodes of Doctor Who in April 2007. 
The actor earned the London Critics Circle Theatre Award for Best Actor in 1986 for his performance in The White Hope. Earning an honorable name through his work, Hugh Quarshie must make a significant amount of net worth. 
Hugh Quarshie Married To Wife, Children 
Hugh, with a good height of 5 feet 9 inches (1.75 meters), spent his childhood in London. 
Read About His Life: Niles Fitch Wiki, Age, Birthday, Height, Parents
Now, he lives in London with his Swedish wife, Annika Sundstrom. He also has three children, daughters, Maya and Freya, and a son named Caspar. He is often spotted at various events with his wife.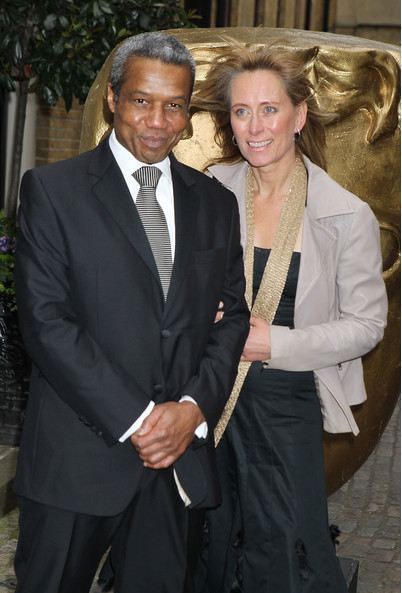 Hugh Quarshie attends the BAFTA craft awards with wife Annika Sundstrom on 28 April 2013 (Photo: zimbio.com)
His wife Annika is a therapist and health instructor at Muskel & Nervstudion. She performs nerve and muscle treatment to remove pain and gain normal mobility. 
She also worked as an account director at Red Relations and Spoon Publishing, and an art director at DG Communications AB and Annika Sundstrom Design. 
The couple has been going strong ever since they got married. Hugh and his wife live their lives as family-oriented people and enjoy their time together while managing their professional life as well. 
Hugh Quarshie Age, Family 
Hugh Quarshie was born in Accra, Ghana on 22 December 1954. His father Richard Quarshie descended from African chiefs while his mother descended from English and Dutch roots. 
Also An Actor: Antwon Tanner Wife, Girlfriend, Family
Hugh only knew a few things about his mother's family. So, he visited his uncle, Jimmy Philips to know more about the family. From there, he went on a journey to unveil many truths concerning his ancestors. 
He then found out that his grandfather, William Reginald Phillips, was a white man whose mother, Anna Kamerling, was of mixed-race, African and Dutch. 
He discovered his grandfather was a wealthy man and a partner of the firm EB Ephson and co. Digging deeper into the life of his maternal family, Hugh also found how his relative dominated the former British colony of the Gold Coast as a part of the 'Mulatto elite.' 
However, the most important discovery out of all was a 'Kamerling House' that led him into the depth of his ancestry linked to his great grandmother, Anna. On his final trip, he found another long lost cousin, Eric Kamerling, who was the keeper of the family archive. 
The journey took him to many places and also helped him find relatives he never knew existed.