Harry Collett is a British 'child' movie actor who came to limelight after getting a casting call for the role of Tommy Stubbins in the 2020 movie, The Voyage of Doctor Dolittle, which also stars Avenger's actor Robert Downey Jr.
Before that huge casting call, Harry had started in some notable movies and TV shows, including a small role in the Christopher Nolan film, Dunkirk, in 2017, Dead in a Week Or Your Money Back in 2018, The Hive in 2015 and Casualty in 2017-2019. 
Additionally, he has also been featured the music video, "Baby It's Cold Outside," of artists, Idina Menzel and Michael Bublé, in 2014. 
Harry Collett's Wiki: Age, Birthday
Harry Collett is currently 15 years old, according to his date of birth, that being 17th January 2004. His birthplace is England. 
Interesting: Sophie Shevardnadze Has Husband Or, Boyfriend? Also, Family, Height & More
As a child actor, he cannot manage most of the professional things by himself.
Hence, he is managed/represented by Mary FitzGerald and Lucy Johnson of Curtis Brown, Ltd., and Peikoff Mahan.
Furthermore, he also has official Instagram and Twitter accounts going by the usernames, harrycollettactor and hcollettactor, respectively. 
His On-Screen Family
In the BBC One's British medical drama series, Casualty, Harry Collett plays the character of Oliver "Ollie" Hide.
His character appeared in the series for the first time on 24th September 2016 (series 31) and was last seen in 2019 (series 34).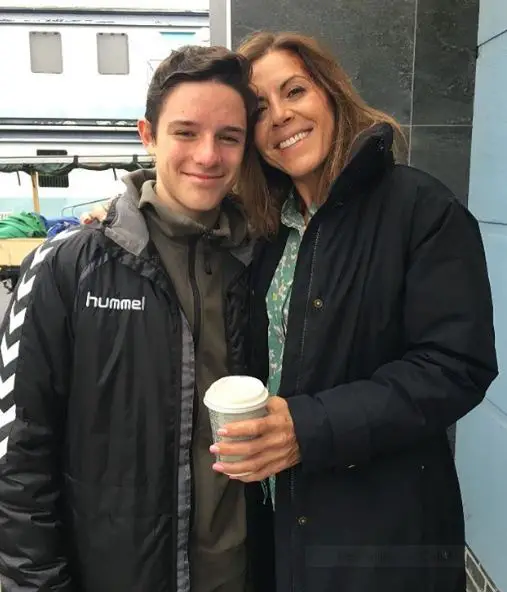 Harry Collett shares a picture with his Casualty co-star Jacey Salles on 30 September 2019 (Photo: Harry Collett's Instagram)
In the series, his father, David Hide, and mother, Rosa Hide, gave birth to him in 2005 or 2006 before breaking their marriage in 2014. 
Also Read About: Robert Costa Married, Wife, Family, Father, Salary, Net Worth
After his parents' separation, Ollie starts living with his mother but, in 2016, when David contacts Ollie, he quickly drives his mother's car to reach his father. 
However, due to some reasons, the car gets burned, which causes injuries to Ollie. Additionally, the story revolves around the conflict of whether Ollie lives with his father or his mother. 
8 Interesting Facts About Harry Collett
His birth sign is Capricorn.
His unreleased projects include Angels Of Our Past and Dolittle. 
He has provided his voice for a character named Halix in the video game, "Dragon Quest Heroes: The World Tree's Woe and the Blight Below."
He has played the role of young Galavant in one episode of the 2015 television series, Galavant; the episode is named "My Cousin Izzy". 
He has been featured in an advertisement for Save the Children where he plays Alex, a child living in poverty, in 2012. 
He has also done the 'Find Your Storybook' TV campaign for Expedia in February 2014.
The character of his father and mother in the BBC One series, Casualty, is played by English actors, Jason Durr and Lorraine Pilkington. 
Harry was seen in the movie, Dunkirk, as Mark Rylance's character's son.