Eamonn Walker is a British film, television, and theatre actor best known for playing Kareem Saïd in the HBO television series Oz, Battalion Chief Wallace Boden on Chicago Fire, PC Malcolm Haynes in The Bill, Winston in the BBC series In Sickness and in Health, and John Othello in the ITV1 production of Othello. 
Eamonn Walker's Age, Parents
Eamonn Walker was born on 12 June 1962 to a Grenadian father and a Trinidadian mother in Islington, London. There he spent his first nine-year and also developed immense affection for the art of dancing. Later, he moved to Trinidad and lived there with his parents for six months and completed his school from 'Hungerford School.'
Look For: Amaury Nolasco Bio: Details On Personal Life, Dating, Family
After completing high school, he began studying social work at the University of North London. At the time, his interest in becoming a professional dancer blossomed, so he joined the 'Explosive Dance Theatre Company.' However, his luck was not in his favor, as an abscess on his calf muscle forced him to give up dancing. After Eamonn was said that he would never be able to dance again, he tried to pursue his career in social studies but ended taking up acting as a profession. He moved to the United States and began studying at the New York Film Academy.
Height
Eamonn stands at a height of 6 feet 1 inch (1.85 meters).
Movies & TV Shows
Eamonn Walker first made his professional acting debut in 1983 on stage in London. Then in 1985, he made his first television appearance after he appeared in an episode on the second series of Dempsey and Makepeace.
Soon after, he began appearing in several TV shows like The Two of Us, Bulman, In Sickness and in Health, The Les Dennis Laughter Show, Blind Justice, The Bill, The Upper Hand, Old Boy Network, Birds of a Feather, Goodnight Sweetheart, The Governor, Supply & Demand, Oz, Rose and Maloney, ER, Moses Jones, Kings, The Whole Truth, Chicago P.D., Chicago Med and many more.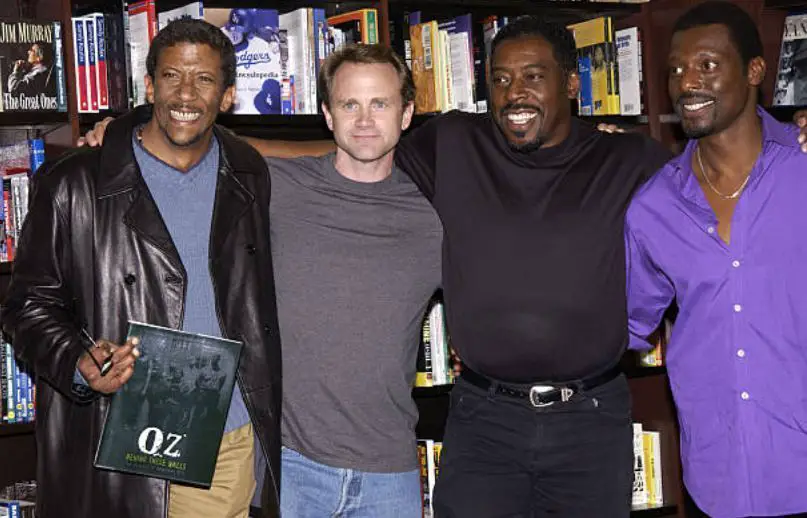 Eamonn Walker with his Oz's co-stars (Photo: gettyimages.com)
Alongside TV series, Eamonn has also made his appearance in movies such as Shopping, Once in the Life, Unbreakable, Othello, Tears of the Sun, Duma, Lord of War, Cadillac Records, The Messenger, Blood and Bone, The Company Men, Legacy: Black Ops, and A Lonely Place to Die.
Net Worth
According to celebritynetworth.com, Eamonn has an estimated net worth of $2 million. 
Married- Wife
Eamonn Walker is a married man, and his wife is Sandra Walker, a novelist. The couple courted for two decades before getting into marital bliss. 
Now, the couple is nurturing their three children: two of them are twins, named Jahdine Walker and Deke Walker.