American actor David Castro is widely known as his role in Raphael Santiago on the Freeform and Netflix fantasy series Shadowhunters. He enjoys his height of fame in the land of entertainment with his prominent role.
David enjoys both fortune and prosperity derived from his successful acting career also has a blissful dating relationship behind the curtains.
And if you are one of the fans of this handsome actor and are curious to know all about his love life, you are welcome as we share the information regarding his personal life.
Know More About David Castro
David Castro was born on 7 February in 1996 in Long Island, New York, USA; he is graduated from High School. Castro grew up with his parents; father, Albee Castro, and mother, Kathleen. He has three older sisters and one older brother in the family.
David started his career at the age of seven his acting debut in the film Palindromes in 2004. Later he appeared in Independent Films, A Guide to Recognizing Your Saints and Little Fugitive, alongside his sister Raquel.
Likewise, he had a role in the film 27 Dresses in 2008, The Ministers in 2009. David recently released film Forged won the Best Domestic Features at the New York International Latino Film Festival in 2010.
When David isn't acting, he is enjoying Golf and Studying Jiu-Jitsu. He is a self-taught piano player, his love for music has now lead him to debut as a singer. David has an eye-catching six-packed body feature with the height of 5 feet 9 inches (1.75) m tall.
David Castro; Married Or Dating?
Apart from being talked about his successful career David Castro known that he was in a relationship with hot New York girl Paige  Chandler. David and Paige have been dating since last seven years and still going strong.
Back on 12 March 2018, David and Paige celebrated their 7th anniversary and shared a photo on his Instagram with his girlfriend, Paige.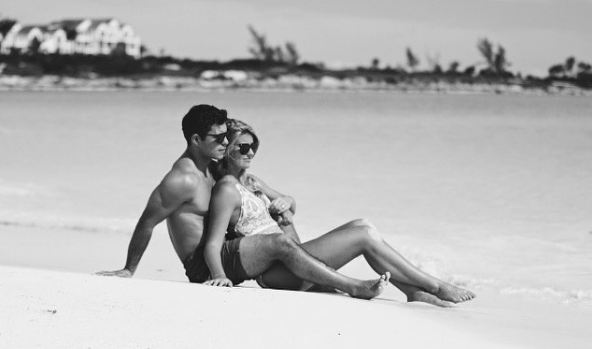 David savoring seven years of togetherness with his girlfriend, Paige Chandler (Photo: David Castro's Instagram)
David expresses his thought by saying Happy Anniversary. They are doing better every time, bonding between them is becoming stronger after seven years in affairs and maintaining as one of the perfect couples.
The lovebirds are always eager to show, how much they mean to each other. The relationship between them is vigorous there is no sign of break-up as of now. Though there has not been any formal announcement of them getting married, hope that he will soon tie a knot with his girlfriend.
Nevertheless, the actor was seen together posting different pictures of her girlfriend on social networking sites with their romantic relationship. It seems the couple has found the perfect companion in each other due to their mutual relationship.