Daniel DiMaggio is a television actor who is best known for his role of Oliver Otto in the series regular on the ABC sitcom American Housewife. He has also lent his voice to the animated series Clarence.
Spreading his magic from TV shows to movies, Daniel has achieved an appreciable height of success in the film industry. He has become the heartthrob of thousands of fans where most of them are eager to know more about him.
Daniel DiMaggio's Short Wiki-Bio
Daniel was born on 30 July 2004 in Los Angeles, CA and currently is of 13 years of age. His inspiration for acting started right from the home as his parents were both professional actors.
He was just eight years old when he declared himself ready to start acting. Since then, he has started appearing in many short movies and music videos. He featured in music videos for the band The Blue Flames and Space Plane directed by John Asher.
He is well-known for his remarkable role of Oliver Otto as a regular appearance in the ABC sitcom American Housewife. Daniel has also made his guest appearance in the movie Burn Notice (2007) and the American Sitcom The Haunted Hathaways (2013 to 2015).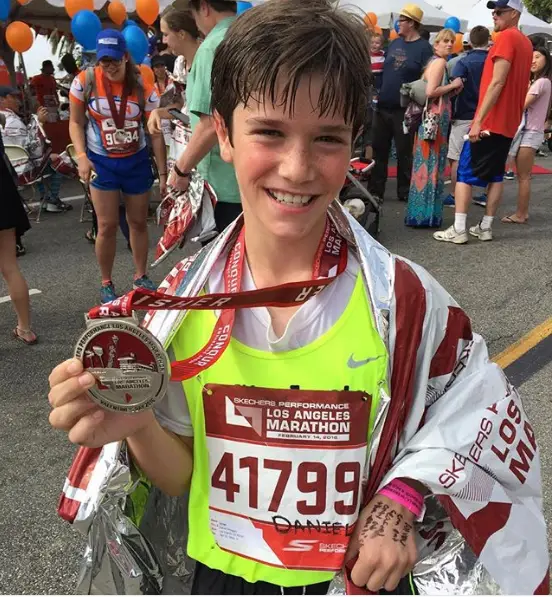 Daniel DiMaggio participates at Los Angeles Marathon picture posted on 15 February 2016 (Photo: Daniel DiMaggio's Instagram)
Not only is he famous for acting, but he also recorded his voice for the show Clarence. He even portrayed as a young Superman in Supergirl, a show on CBS. Besides acting, he is a cross-country runner and ran the Los Angeles Marathon; he is also a baseball player.
Daniel DiMaggio's Family Life
Daniel, who stands at the height of 5 feet 2 inches tall, lives with his parents, Lou DiMaggio and Loretta Fox in Los Angeles. His parents are two professional actors and raised him along with two other siblings, Michael and Jaclyn.
His father, Lou DiMaggio is an actor, stand-up comedian and a writer who is best known for his work on HBO's Curb Your Enthusiasm. His mother, Loretta Fox, is an actress who is best known for the movie Going the Distance and Blades of Glory.
Character's Biography: Oliver Otto Played By Daniel
Daniel television parents in ABC sitcom American Housewife are actors Diedrich Bader and Katy Mixon. In the series, Daniel has played the role for Oliver Otto, a 12-years-old boy.
Oliver, who is Katie and Greg's middle-child, is clean cut, self-assured, smart beyond his years, articulate, and a self-professed fiscal conservative.
He is the kind of boy who refuses to join in his school's food drive because it promotes a welfare state. Instead of that, he is a disciplined little capitalist who is saving for his next share of Apple stock. Moreover, though, he is a good kid and uses his wits to find ways to help people and develop his portfolio.