Carlos Knight is an American actor and comedian best known for his role as Owen Reynolds on Nickelodeon's Supah Ninjas. 
As a talented actor, he was awarded Young Artist Award for the Best Performance in a TV series Guest Starring Young Actor in 2009. 
Additionally, Carlos is also involved in music. He released his first music video, I Can't Get In on Awesomeness TV in 2012.
He also appeared in Atlanta Hip Hop artist Young Thug's single, Stoner, in 2014.
Regarding his earnings, Carlos has not disclosed how much he has garnered in total from his acting career. Therefore his net worth is yet to be revealed by him. 
Carlos Knight's Bio: Age, Family
Carlos Knight was born on 22nd September 1993 in Columbia, South Carolina. He grew up in his hometown with his family.
Peek Inside: Damon J Gillespie Wiki At Age 24: Height, Parents & Dating Status Now
Though the 26-year-old actor has not provided details of his family, he was found having a lovely on-screen family on the TV show, Supah Ninjas, where he portrayed Owen Reynolds.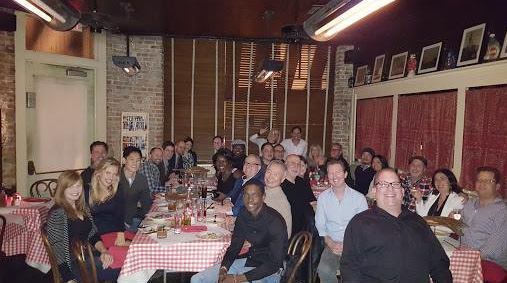 Carlos Knight with his Supah Ninjas family on 9 January 2017 (Photo: Carlos Knight's Facebook)
The young actor standing at the height of 5 feet and 11 inches (1.8 meters), began acting at a young age. For the first time, he performed at Town Theater in his hometown. 
As a beginner, he performed in various theatrical plays like Footloose and the Wiz.
Enhancing his acting skills in theatre, Carlos advanced to act in TV shows like ETV's Detective Bones and the South Carolina History Mystery, both performed in 2006.
The same year, Carlos attended an industry convention in Atlanta, Georgia, intending to perform in big shows.
There, he was signed to an agent, and he moved to Los Angeles, where he was cast in several popular shows like NBC's ER and Southland. 
Today, he is best known for his portrayal in hit TV shows like Supah Ninjas from 2011 to 2013, Lucifer, The Night Shift, and Guidance.
As a talented actor, he has also appeared in several movies like Fred 2: Night of the Living Fred, Fred 3: Camp Fred, and The Man from Earth: Holocene. 
Married Or Dating?
Carlos Knight has not revealed whether he is married or dating a girlfriend if he has any.
If he isn't married, the young star is expected to share a romantic love life; but he hasn't disclosed any.
You Might Like: Nyambi Nyambi Married & Net Worth Details; Wife, Age
Perhaps, Carlos gives more importance to his career and finds it hard to manage time to spend with someone he loves.
Or maybe he doesn't prefer to be in the spotlight on public platforms regarding his personal life.
Whatever it is, he certainly can't stop himself from talking about Valentine's Day date and his love feelings.
On a talk with popstaronline.com, he said that he would like his Valentine's Day date to be in a peaceful place with good food.
In the interview, he also revealed an embarrassing moment with a girl while he was in 1st grade.