Brendan Scannell is an actor, best known for his role as Heather Duke in the 2018 Paramount television series, Heathers, and as Pete in the 2019 Netflix original series, BONDiNG.
However, before making his debut in front of the camera, he began his career as a voice actor and gave his voice to the action and horror video game, Mortal Komnat: Deception. 
Other than acting, Brendan is famously known for his stand up comedy. Due to his humorous comic skill, he has grabbed the people's attention and support.
His comic persona has also been featured on Funny or Die, College Humor, Super Deluxe, Dekkoo and the Freedom, and Comedy Central. 
Don't Miss To Check Out: Aaron Marino Age, Wife, Gay, Family, Bodybuilding
Besides, Brendan has also tried his luck as a writer and has gotten a fruitful reward.
However, unlike his career, he has not disclosed the actual figure of his net worth. But being involved in different field as actor, comedian, and writer, he might have added a big load of the amount to his net worth. 
Brendan Scannell's Bio
Brendan Scannell was born on 20th June 1990 in Valparaiso, Indiana the United States.
While talking about his family life, he has only revealed his mother Nancy Scannell and sister Brigid Scannell's name. Until now, there is no information disclosed about his father. 
As for his education, Brendan attended Northwestern University, henceforth studying acting.
Nevertheless, an interesting fact about him is that, due to his appearance and attributes, people often confused him for a lady, but in truth, he is male by gender.
Coming Out As Gay
Brendan, who stands at the height of 5 feet 4 inches (1.62 meters) is openly gay.
He came out as gay during his 7th-grade, fighting all the complication and difficulties.
On 1st February 2018, he mentioned about his grandfather's illegal relocation in the US due to his grandfather's criminal status in Ireland. On the tweet, he also openly stated that he was gay, working in Hollywood.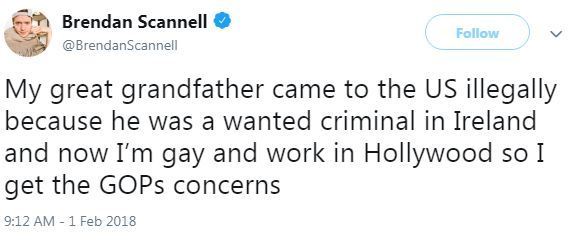 Brendan Scannell tweets about being gay on 1 February 2018 (Photo: Brendan Scannell's Twitter)
On the 47th episode Coming Out with Lauren & Nicole, Brendan discussed overcoming his fear of expressing his femininity and fear of making him unattractive to other men.
Know More: James Charles Gay, Boyfriend, Parents, Brother, Height
Now, as in 2019, Brendan does not hesitate to talk about his gender identity and openly talks about his sexuality. 
Is Brendan Dating?
Unlike Brendan's career and sexuality, he is very private when it comes to his personal and love life.
Even after digging through his social media, there is no information about who he is dating or has ever dated. 
However, on 12th December 2018, Brendan posted a picture with Ilana Pena, a TV writer, and mentioned her as one of the girls he dated when he was straight.
Nevertheless, taking a closer look at their social media account, they might be good friends who often post each other's pictures.