American actor Antonio Marziale is well-known for his role as Elliot in Netflix's 2018 movie 'Alex Strangelove.' He has also acted in a few notable TV shows—his television roles are as Greg in Betch (2015); Benicio in The Gay and Wondrous Life of Caleb Gallo (2016); Prince Xander in Project Mc² (2015-2017); and as Isaac Bancroft in Altered Carbon (2018).
Now, Antonio is working on his upcoming romance movie 'Boys Who Like Books.' The film is being made upon the story of a cocky fiction writer, who pursues a snobbish bookstore employee to go on an extended, ill-fated date one night in Los Angeles.
Bio: Age, Birthday
Antonio Marziale was born on 29th September 1997 in Pittsburgh, Pennsylvania, USA. He attended Carnegie Mellon University, located in his native place—Pittsburgh. 
His mother is from Toronto, Canada. Other than that, he has not disclosed any details of his family or parents, including his family's identity and profession.
Height
The 'Alex Strangelove' actor, Antonio Marziale, stands at the height of 5 feet 10 inches (1.75 meters). 
Is Antonio Marziale Gay?
Yes, the actor Antonio Marziale is gay, and he is open about his sexuality. Being gay, he is also a prominent LGBTQIA+ activist, who supports and stars in queer media.
Recommended: Michelle Rodriguez [Ryan Shazier's Wife] Married Life, Husband Details
Even during an interview with them.us, in October 2018, Antonio mentioned himself as a queer actor—he was promoting his gay characterized movie 'Alex Strangelove.' Additionally, he also expressed his attachment to the movie's character by saying, "I feel like there was a part of me that was him."
His Character In Movie Alex Strangelove
Antonio Marziale plays the character of Elliot in Netflix's movie 'Alex Strangelove'—Elliot is a confident high school graduate, who happens to be gay. The movie's protagonist Alex Truelove (played by Daniel Doheny), fancies him even though he has a girlfriend, Claire (played by Madeline Weinstein).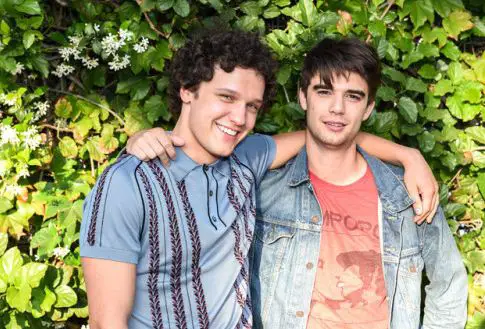 Antonio Marziale with his Alex Strangelove's costar Daniel Doheny (Photo: Tumblr.com)
Moreover, the movie is about the high school class president, Alex, who is confused about whether he is straight or bisexual.
Alex Strangelove's Actor: Daniel Zolghadri Wiki, Dating, Family, Ethnicity
Furthermore, 'Alex Strangelove' was released on 8 June 2018 on Netflix, and its world premiere was held at the San Francisco International Film Festival on 14 April 2018.
Interesting Facts About Antonio Marziale
Antonio Marziale is still friends with his 'Alex Strangelove' cast, including Daniel Doheny and Madeline Weinstein. 
One of his favorite shows is 'Buffy the Vampire Slayer'—he even dressed up as Buffy for Halloween in 2016.
He watches shows like 'Stranger Things,' 'Orange Is the New Black,' and 'Chewing Gum' regularly.
He appeared as Daryn Boston on the 12th Season of horror series 'Supernatural'—he debuted in an episode named 'The Memory Remains.'
He has over 90 thousand followers in his Instagram account.