Alex Saxon is an American theatre, TV, and movie actor best known for his roles in TV shows like The Fosters and Finding Carter and TV shows like Chapman and Coin Heist. 
With several critically acclaimed roles in various projects, he is one of the recognized personalities in the American entertainment industry.
Alex Saxon's Bio: Age & Birthday
Alex Saxon was born in Liberty, Missouri, on the 10th of September 1987.
He attended William Jewell College, where he studied Pre-Med and graduated magna cum laude with dual majors in Psychology and Applied Critical Thought and Inquiry, and a minor in Chemistry.
Dating Girlfriend?
Alex Saxon is dating Hannah Marks. 
Girlfriend Hannah Marks
Hannah Marks was born on 13th April 1993 in Santa Monica, California, as Hannah Gayle Marks. 
She is the only child of Robin Marks and former actress, Nova Ball. She is the granddaughter of Ernie Ball, a musician, guitar manufacturer and inventor of rock n' roll Slinky guitar strings. She is also the great-great-granddaughter of the composer, Ernest Roland Ball, who wrote 'When Irish Eyes Are Smiling.'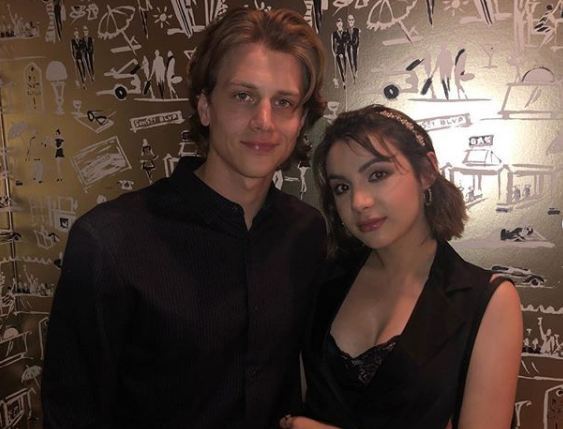 Alex Saxon with his girlfriend, Hannah Marks on 23rd February 2019 (Source: Hannah Marks' Instagram)
Hannah is an actress and producer known for TV series like Weeds, Necessary Roughness, and Awkward and movies like The Runways, Anesthesia, and Almost Home.
She has received Young Artist Award nominations for her performance in the movie, Accepted and for her guest role in the TV show, FlashForward. Additionally, she was also named as one of Forbes 30 under 30 in 2020. 
Career (Movies & TV Shows)
Alex Saxon began acting in theatres when he was just 8-years old. Gradually, he expanded his experience by working in short films and regional theatres along with his dance performances.
Then in 2011, he made his TV debut by playing a guest role of Vampire Guy in the TV show, Awkward, and next year, he appeared in a minor role as Ace 2 in the movie The Olivia Experiment. 
Actress: The Grudge Cast Andrea Riseborough Partner, Weight Loss & Movies
In 2013, he acted in the two movies; Chapman portraying the character of Young Paul Holt and the TV movie, The Advocates portraying the role of Young Henry Bird.
Additionally, from 2013 to 2015, he appeared in a recurring role of Chloe in the TV show, Ray Donovan, and from 2013 to 2018, he played a significant recurring role in the TV series, The Fosters.
Then in 2014, he starred in the movie Compound Fracture as Brandon, and from 2014 to 2015, he played the major role of Max in the TV series, Finding Carter.
In 2016, he played a guest role of Joey Richards in the TV series, Shooter, and in 2017, he portrayed the character of Jason in the movie, Coin Heist. 
He performed the recurring role of Gabriel Johnson in the TV series, The Fix in 2019 and from 2019 to 2020, he appeared as Ace in the TV show, Nancy Drew.