Among the famous personalities who possess multi-skills, Adam Shankman is a well-recognized face. Having his stints as a director, producer, actor, and choreographer, Shakman has grasped all the pleasure from his intriguing movie career.
Besides, coming out openly as a gay defines how courageous Shankman is in every aspect of his life; whether it is professional or personal. Post his sexual confession, Adam enjoys a resounding togetherness with his soon-to-be partner.  
Openly Gay Director Fears On The Conceptual Inequality!
It takes a massive gut to publicly announce about the sexual orientation where everyone is judgmental about it. However, Adam Shankman showed strong courage to open up about his sexual preference in public.
Being gay is not easy, and excluding the present situation, it was even tougher in the context of United States. It was also for the renowned director, Adam Shankman, who presented his concern on the difference in freedom between gay and straight people. As per his tweet posted on 24 August 2012, he stated,
I was born in the USA, but I don't share the same freedoms & rights cuz I'm gay? Hmm. Not equal? Guess I don't have 2 pay equal taxes then? Yay!
Besides, he also presented the fact that it was arduous to possess equal rights without the legal marriage. In addition, he flashed the fact that gay people were strangled from state tax benefits and social security benefits.
Thankfully, with the new policy, it is not the case now.
Adam Shankman Hints Settling Down Amid Sexual Confession
Gay or straight, it does not matter when it comes to love and feelings. Openly gay star Adam Shankman not only confessed his sexual orientation but also hinted at settling down with his long-term boyfriend.
After enjoying the gay rights, Adam sarcastically tweeted his confusion where he should get married to his boyfriend because he had the privilege to do so in any state he wanted to. What more exciting to see was his strong four words, 'Because now, I Can!'
Shankman is enjoying the relationship with his boyfriend, Frank Meli, who works in casting and reality television. As of Adam's confession, he met Frank at his birthday party and soon fell in love with him.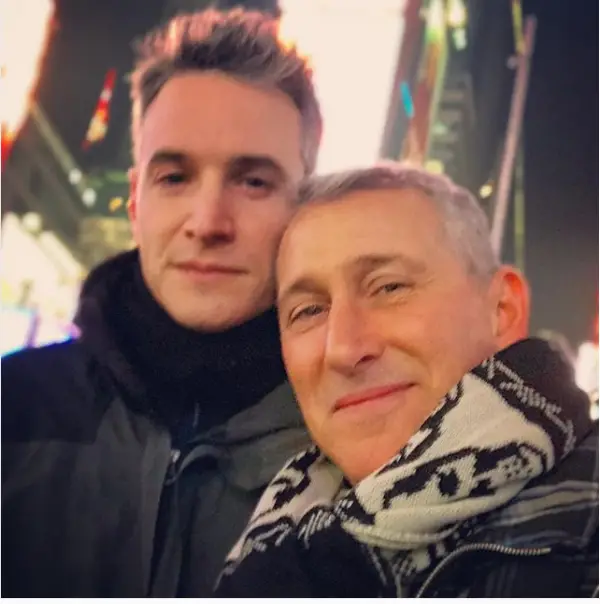 Adam Shankman with his partner, Frank Meli posted on 15 February 2018 (Photo Adam Shankman's Instagram)
Back on 15 February 2018, Adam was caught rejoicing in the valentine's day with his soon-to-be spouse, whom he mentioned as @iamfrankmeli on his Instagram.
As of Adam's intention, he is thinking of starting a new family with his partner who has already shared an engagement ring with him.
Adam Shankman's Family and Professional Life:
Adam Shankman was born on 27 November 1964, in Los Angeles, California, to his parents, Phyllis and Ned Shankman. He grew up alongside his sister, Jennifer, who was born in 1968.
Adam was raised in an upper-middle-class family. His father, Ned Shankman, served as an entertainment lawyer and manager. Meanwhile, his mother, Phyllis, was a licensed practitioner in Gestalt therapy.
Shankman, who stands tall at the decent height, generated his love for movies after graduating from Palisades High School. Initially, Adam was interested in dancing as he broke into professional choreography in a 1989 music video for rapper MC Shan. After stepping out as a professional choreographer, Adam got the chance to work in renowned shows like Friends and The Ellen Degeneres Show. Later, he also judged seven seasons of So You Think You Can Dance.
Subsequently, Shankman had his directorial debut in 2001 romantic-comedy The Wedding Planner. Since then, Adam had his stint as a director on numerous movies and TV series, including A Walk to Remember (2002), The Pacifier (2005), Modern Family (2011), and Rock of Ages (2012). Also, he directed the pilot for Step Up: High Water, a TV series in June 2017.
Besides, Adam produced various films, including 17 Again (2009) and Step Up: Revolution (2012). Meanwhile, he produced 2018 drama web series, Step-Up: High Water.
As a multi-talented face in the world of cinema, Adam Shankman undoubtedly summons a substantial income. Reportedly, his net worth dwells above $6 million.