Ace Bhatti is an English actor best known for playing the role of Yusef Khan in the TV series, EastEnders.
He has also performed amazingly in several movies and TV shows since he started acting professionally in the early nineties.
His movie credits included Brothers in Trouble in 1995, Bend It Like Beckham in 2002, It's a Wonderful Afterlife in 2010, Amar Akbar & Tony, High Strong Free Dance in 2018, and Bohemian Rhapsody also in 2018. 
Similarly, he has acted in several hit TV shows, including Band of Gold from 1995 to 1996, NCS Manhunt in 2002, Grease Monkeys from 2003 to 2004, Cold Blood from 2005 to 2008, DCI Banks in 2016, Line of Duty in 2019 and many more. 
Ace Bhatti's Bio
Ace Bhatti celebrates his birthday on 13th September of every year. Born in Nottingham, Nottinghamshire, England with the birth name Ahsen Rafiq Bhati, he is the son of Khalida Khanum.
You May Like: Eric Nies Wife, Gay, Family, Net Worth
Apart from his father's name, details of his family members are yet to be found.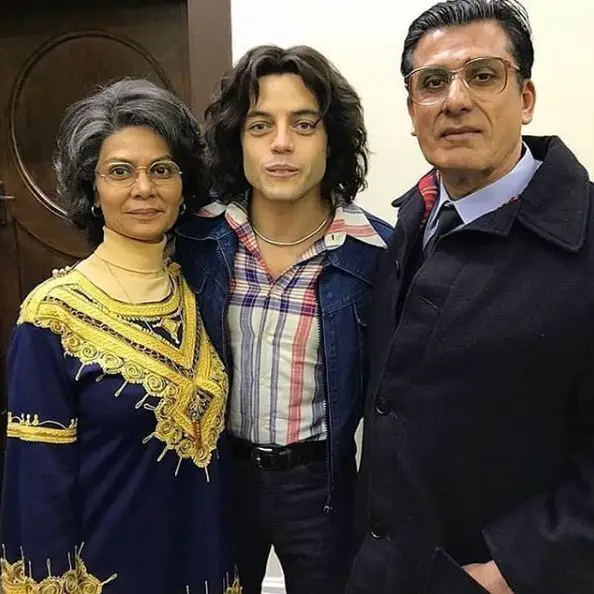 Ace Bhatti (first from right) with his on-screen family of the film Bohemian Rhapsody in 6th June 2019 (Photo: Actors Sanctuary's Instagram) 
Ace's interest in acting grew up when he played a small role in his school.
Determined to pursue a career in acting, he enrolled to the drama school, Clarendon College. His fantasy to become an actor became much stronger when he further got a chance to act in Acorn, Central Workshop in his hometown. 
He made his first television role debut by performing in the children's series Dramarama in 1984 at the age of 14.
Later, he went to broaden his skills and knowledge and got trained at the London Academy of Music and Drama Art (LAMDA).
After the study, he played his second television role in the soap opera TV series, Family Pride. From there, he began marching forward in his career and never looked back in his more than a three-decade-long career. 
Age, Height & Ethnicity
Ace Bhatti is 50 years old as of 2019. He stands at the height of 6 feet and 1.5 inches (1.87 meters) and embraces Indian ethnicity.
Married To Wife? 
Ace Bhatti is married and is the father of two children. However, he has not revealed any information about his wife and children to this date.
See Also: Judd Lormand Wiki, Age, Married, Family
Though he has kept his personal life unreachable to his fans and followers, he has played many roles of husband and wife on-screen.
Portraying Yusef Khan in 2010 in the TV series, East Enders, his character got married to Zainab Masood in an arranged marriage in Pakistan at the age of just 17.
Playing the role of a general practitioner in the series, his family got ashamed when his wife, Zainab, started an affair with another character, Masood Ahmed.
To punish her, Yusef set his wife on fire, but Masood rescued her. Later, Zainab divorced Yudef and married Masood, moving to the UK.