Mo McRae is an American actor who is known best for his role as Tyler on the American drama series, Sons of Anarchy.
The actor has also had a guest appearance on Boston Public, The Shield and ER and many more on the list.
The talented actor has attracted many viewers with his acting skills, and his fans are curious to find out about his personal life.
But, McRae is one of those celebrities who like to keep things close to his chest.
Mo McRae Married To Wife
Mo McRae is married to his beautiful wife Lex Scott Davis, who is an American actress. 
Mo and his wife met on the set of 2018's horror movie The First Purge and since then the couple has no looking back. The two initially got attracted to the persona that both of them possessed. 
That might be the reason why the love birds got engaged only after a few months of dating. Moreover, they shared engagement rings on 19th August 2018.
Read About: Karen Jordan Bio, Age, Husband, Salary, Family
The two, then, finalized the dates for their wedding on 21st July 2019, and on the day, they tied the knots with the promises of loving each other till a lifetime.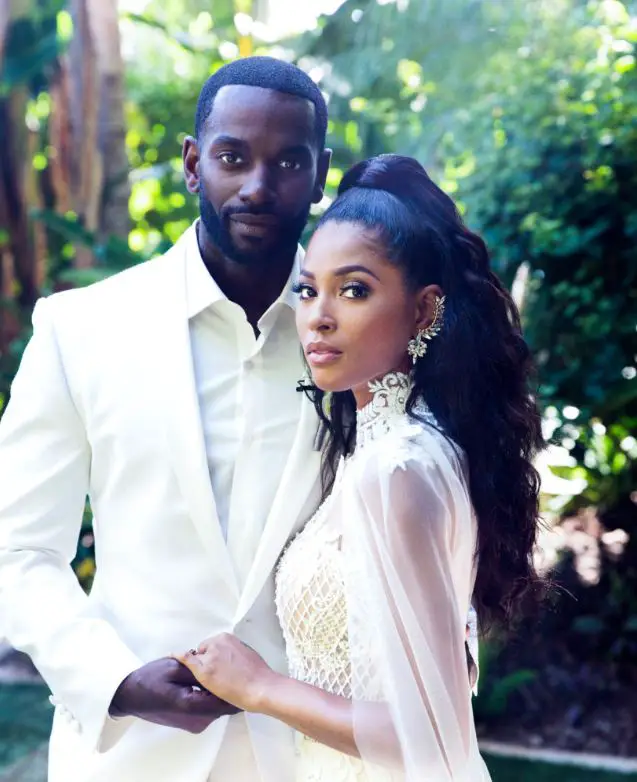 Mo McRae and his wife Lex Scott Davis on their wedding day on 21st July 2019 (Photo: Nick Mentzel)
Amongst many guests, there was a special guest who made her presence on the wedding day. The guest was no other than Mo's 11 years old daughter.
Well, you read that right as Mo previously was in a relationship with a woman whose details are not disclosed to date.
The actor did not particularly seem to enjoy revealing any information about his last relationship.
However, But Mo had been quite open about his daughter who goes by the name Miami McRae.
Hence his daughter Miami was usually seen in the media as well.
On a similar stance, back on 7th November 2015, the actor and his daughter were spotted in Kids In the Spotlight Film Awards at Fox Studio in Los Angeles, California.
Mo McRae's Bio: Career, Net Worth
Mo McRae was born on 4th July 1982 in Los Angeles, California and currently is of 37 years of age.
Raised in South Los Angeles, McRae during his high school years and after enrolling in a drama class at Washington Preparatory High School, he decided to abandon his early basketball dreams to perform in school theatrical productions.
After graduating from high school, McRae began his professional career as an artist in the entertainment industry.
After being signed by an agent, he started to book national television spots for major corporations such as Nike, Visa, and Reebok, among many others.
These spots opened the doors for him to some other television works and made his guest appearances on shows such as NYPD Blue, Becker and Boston Public.
He has also made his appearances on other television shows like CSI: Crime Scene Investigation, ER, and The Shield.
Also Read: Cathy Areu Age, Birthday, Married, Husband, Parents, Height, Eyes
In 2006, McRae played one of the lead roles in the hit film Gridiron Gang opposite Dwayne Johnson, which later grossed more than $40 million worldwide.
After achieving so much success in the film industry, he started to build an interest behind the camera. He produced and starred in the drama series The Fall (2013).
In the year 2010, McRae recurred on the ABC drama Detroit 1-8-7 as Pooch and also starred a lead role in the indie film The Deadliest Lesson.
McRae earned his net worth through his successes in both film and TV and is growing fast day by day with his fans showering all the love and support to him. However, his exact net worth is not known at the moment.