Todd Spiewak (Jim Parsons' Husband) Wiki, Age, Wedding, Job, Net Worth
Date: 16 Aug, 2018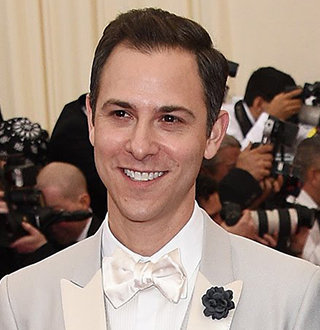 Making a name for himself in the sitcom world is the American comedy superstar, Jim Parsons. For those who follow the show, The Big Bang Theory, it is no humdinger to claim how Jim has given justice to his role as Sheldon Cooper.
He has become one of the highest-paid TV stars in the United States. He is widely known among the mass people. However, it could be a mystery to many to dig out who he is married to in his off-screen life?
Well, away from the cameras Jim shares a wedding bliss with his openly-gay partner, Todd Spiewak. Todd is also somewhat related to the entertainment industry as he makes a name for himself from doing what he loves the most.
Know all about Todd Spiewak's Wiki, Age, Wedding, Job, and Net Worth!
Todd Spiewak's Wiki Plus Family Details
Todd Spiewak, age 41, was born on 19 January 1977. He grew up with his family in the United States. Though Todd's height remains unknown on wiki sites, his partner, Jim stands tall at the height of 6 feet 1¼ inches (1.86 m).
Apart from the less information about his family and childhood upbringings, it is known that Todd graduated with a Bachelor of Fine Arts in graphic design from Boston University in 1999.
You May Want To Look At: Rob Yang(Actor) Wiki, Age, Height, Girlfriend, Ethnicity, Succession
What Is Todd Spiewak's Job?
Most of Todd's media recognition comes from his association with the famed TV star. However, besides that, Todd is also successful for the career he possesses.
Todd is an art director mostly known for working with the clients like The New York Times, American Express, and Barnes & Noble. Apart from that, he also enjoys his job as a producer. His recognizable work is as an executive producer of the TV series Young Sheldon, which is the spin-off prequel to The Big Bang Theory.
For his artistic professionalism, Spiewak no doubts receives a substantial paycheck. However, his exact earnings remain concealed to date. Nevertheless, his husband, Jim summons the hefty net worth of $70 million.
Don't Miss: Kyle Schmid Married, Wife, Girlfriend, Dating, Gay, Relationship, Family
Todd And Jim Married After Dating for17 Long Years!
Finally, the date 13 March 2017 opened a new chapter of Todd and Jim's long-haul relationship. The gay couple goes a long way back in 2000 when they started seeing each other. So why did they waited too long to tie their wedding knots?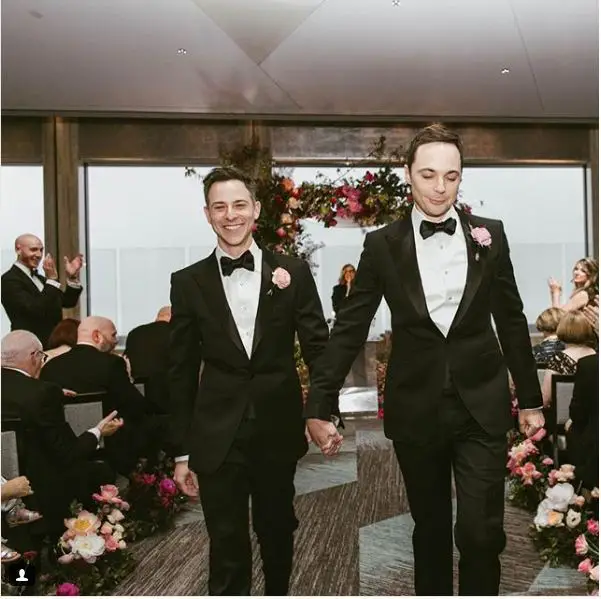 Jim Parsons shares a wedding picture with partner Todd Spiewak on 15 May 2017 (Photo: Jim Parsons' Instagram)
Speaking to the matter, Jim explained that their togetherness was well worth the wait. In an interview published on the people.com on 22 September 2017, Jim stated,
We just didn't care about the act of it that much, to be honest with you. That sounds cold in a way but I finally thought: 'Well, let's have a party then for the celebration and we'll go ahead and legalize this thing.
Also putting his light on the special occasion, he added,
It was so much more meaningful in the moment for me than I predicted, and it's been resonantly much more meaningful than for me afterward than I ever saw coming. You know, I had been an adult gay person for so long at a time where that wasn't possible where life was 'fine' for me.
The couple was rumored to have engaged in Mid-August of 2014 by The National Enquirer. However, Parsons quickly dismissed the rumor through his Instagram post stating that he and Todd were happy together, but not engaged!
See Also: Hena Daniels Wiki, Age, Married, Husband, Family, Salary, Height
No matter their marriage took ages to take place, it is fortunate for both Todd and Jim to legalize their long-term relationship finally. In comparison, Todd feels luckier to find a massive star in his successful partner.
---