Tracey Spicer, the famous Australian newsreader & journalist, is currently working as a freelance media trainer and broadcaster through Spicer Communications and Outspoken Women. In any case, if you're unknown about her personal life and is interested knowing her, we have covered that whole aspect. 
Short Wiki-Like Bio And Career
Born on 1967, Tracey Spicer is a native of Brisbane, Queensland.The famous Australian newsreader has not disclosed her birthday before. But in 2017 when she received a special gift from the federal government, on her Instagram, she shared with her followers that she was born on August 1.
As for her high school, she attended in Brisbane. In 1987, with a Bachelor of Business in communications and major in journalism, she graduated from the Queensland Institute of Technology.
Tracey began her career as providing reports at Macquarie National News. After that, she moved as morning news editor at Melbourne radio station 3AW. She joined Network Ten in 1992 and worked as co-host in Network Ten station in Melbourne.
After working for 14 years on Network Ten, she was dismissed from the network. She filed a case against the Network Ten which amassed attention in the media. After she left Network 10 in 2006, she worked with Sky News Australia as a Sky news presenter and worked till 2015.
During her career, Tracey has worked for various networks like ABC TV, Network Ten, Channel 9 and Sky News. She is working as a columnist for Fairfax, media trainer at Spicer Communications, and appears as a commentator on ABC TV and Channel 9.
Besides newsreader and journalist, Tracey has also produced documentaries for the non-governmental organizations in various countries. She has also won QUT Alumni Service Award Winner in 2016  for the QUT Learning Potential Fund. On 26 January 2018, she was elected as a Member of the Order of Australia for her vital service to the broadcast media as a journalist and television presenter.
Married Life Of Tracey Spicer
Discussing her personal life, she is married to her husband, Jason Thompson. With Jason, she has two children's, daughter Grace Thompson and son Taj Thompson. Her son was born in the year 2004 whereas her daughter in 2006.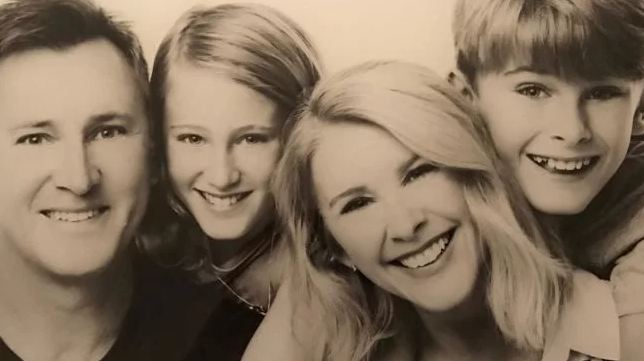 Tracey Spicer with her family in 2016 with her husband Jase, daughter Grace and son Taj. (Photo Credit: The Sydney Morning Herald)
In 2006, after returning from her maternity leave, she was dismissed from Network Ten. She recalls the moment that she was sacked from her job after having the second child, her daughter Grace. She also insisted that she had been discriminated after giving birth to her son Taj in 2004.
After Tracey claimed her case, she gained attention on media and Ten Network denied her discrimination allegations. She threatened to file the lawsuit in Federal Court but eventually compensated with the network up when she got her job at Sky News Australia in 2006.