The Australian actress Tina Bursill who portrays Meryl in the soap opera series Doctor Doctor, talked about working with the talented actor Rodger Corser. The actress shared how wonderful it was playing Corser's on-screen mother and praised the actor for his charming personality and talent.  
Tina Bursill Gushes About Working With Rodger Corser
One of the top-rated soap operas in Australia, Doctor Doctor, has its audiences hooked with its engaging story plot and a brilliant cast of actors. However, it wouldn't be unfair to say most fans are captivated by the charm of the heart surgeon Hugh Knight portrayed by Rodger Corser. 
Even, Bursill herself is in awe of the actor's talent and personality. Talking with Who magazine in 2018, the actress opened up about Corser and said she loved him as a person and was wonderful. She described him as 'naughty' on-screen because that's the quality his character demands in the series and added he had a terrific sense of humor with a zest of life. 
Besides praising his persona, Bursill elaborated on how gifted the actor is in terms of acting, which Corser didn't realize himself. And she claimed that the series gave him the perfect opportunity to explore and showcase his full acting potential. 
Bursell has been sharing the screen with her on-screen son since 2016, with its fifth season airing currently.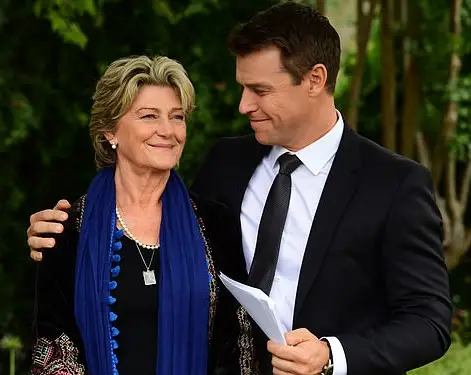 Bursill and Corser from a scene in Doctor Doctor. ( Source: Dailymail)
What Do We Know About Bursill's Real-Life Family and Children?
The Doctor Doctor actress has a daughter Stephanie Bursill who took after her mother and follows the acting profession. The actress and writer Stephanie is famous for her acting in Cinderella and the Secret Prince, Shark Bait, and Frank's Dream. 
As for her married life and relationship, she never revealed the father of her daughter and hasn't spoken about being married or having a husband. 
Get Updates On Tina Bursill's Recent Projects
Almost touching the age of 70, the actress is still fairly active in her career and has brought characters into life with her fabulous acting. 
Most noted for her works in Skyways, Prisoner, and Doctor Doctor, her most recent work is Doctor Doctor, which began airing its fifth season in April 2021. Likewise, another one of her latest works is the tv drama series Wentworth which first aired in 2013 and is currently on its eighth season. 
Given her decades-long career in the show business as an accomplished actress, she has probably gathered millions of dollars in net worth.