Brooklyn diva, Tanisha Thomas is best known for her appearance in dating competition show Love Games: Bad Girls Need Love Too (2010). She also hosts two other talk shows for Oxygen: The After Party television specials and the OxygenLive online series.
Shedding her light on her personal life, Tanisha gave birth to her first baby boy a few months back from her second husband. Moreover, she has also proven the world by showing her slimmer version after losing her 70-pound weight.
Tanisha Thomas Marital Relationships, Divorce, Pregnant
The American native and her second husband Carey St. Hilaire welcomed their son, Aiden, on 7 March 2018. Carey is a Photographer from New York City.
Tanisha started dating Carey St. Hilaire in 2017. The same year, she announced that they were expecting their first child together. Tanisha officially announced the news of her pregnancy through the Instagram post in which she had her hands around her growing belly.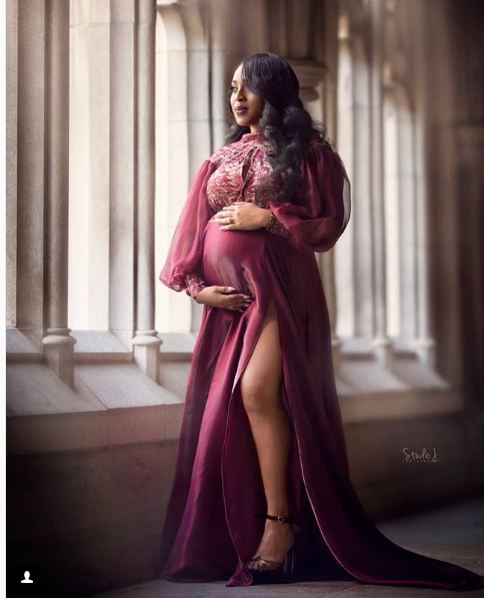 Tanish's maternity shoot posted on 7 October 2017 (Photo: Tanisha Thomas's Instagram)
After the birth of her son on 7 March, Tanisha got Carey got engaged on 23 April 2018. Tanisha often posts his picture on her Instagram.
This is the first child of Thomas. She was previously married to her boyfriend Clive Muir, an actor known for his role in Marriage Boot Camp. The couple began dating each other in 2009 and got married after three years of dating. The couple got married on 4th December 2011. However, their relationship didn't last, and they divorced in 2014.
The couple appeared on Marriage Boot Camp's first season in 2014.
Tanisha On Weight Loss
Tanisha wowed her fan with her astonishing body. When she got serious about her health, she started taking a protein liquid diet. She put on a high protein diet for three months. And as a result, she lost 12 pounds in just one week.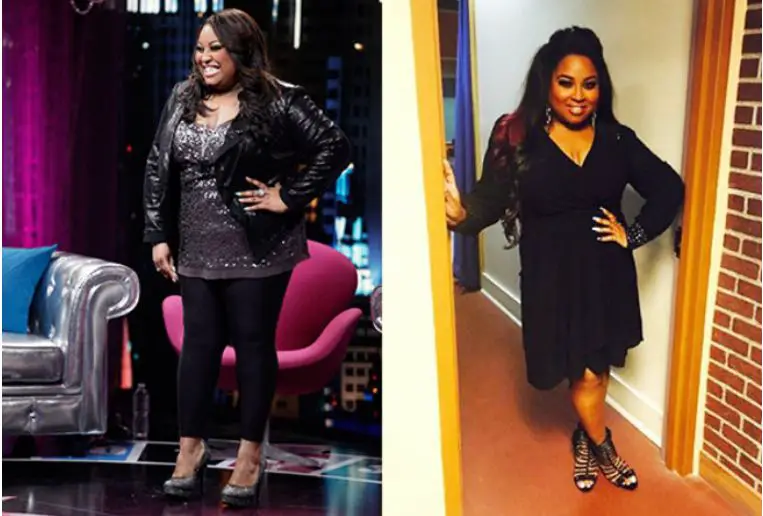 Before and after picture of Tanisha on weight loss (Photo: Oxgygen)
According to her, it takes three main things to succeed in the weight loss mission, i.e., first of all, you need to be disciplined; second of all you have to be motivated and third one is you have to stay on track.
After losing 12 pounds in a week, she was motivated and kept her weight loss routine on track and lost 70 pounds weight.
Tanisha's Short Bio, Net Worth
Tanisha Thomas was born on 28 August 1985 in Brooklyn, New York and currently, is of 32 years of age.
Tanisha was first introduced to television audiences as a cast member in season two of Oxygen's highest-rated original series The Bad Girls Club in 2008. With her bold personality and attitude, she quickly became number one fan's favorite of the show.
After that, she had been featured on many televisions and radio programs, including The Tyra Banks Show (CW), Kathy Griffin: My Life on the D-List (Bravo), The Soup (E!), The A-List Awards (Bravo) and Big Boy's Neighborhood (nationally syndicated radio).
She is also the cast and special host of Bad Girls Club: Twisted Sisters along with Camilla Poindexter, Jelaminah Lanier, Jasmine Carter, and Jonica Booth.
Tanisha has made her fortune by working in the reality shows. According to Forbes, Tanisha's net worth is estimated to be around $100 thousand dollars.