Sue Palka, a recognized Fox 5 weather forecaster, has been in journalism for decades, establishing her name among the prominent news broadcasters. Besides a successful career, she is blessed with a resounding personal life. 
However, managing both her personal and professional life has come with its own challenges for Palka. And, it would have been tough for her to reach the heights of her career if she did not have the support of her husband, Joe Palka. 
Sue Palka's Married Life
Palka married Joe Palka in 1980, and after almost forty-one of their marriage, the bond is still great as ever. It was in 1981 when the pair first encountered each other. At the time, Joe worked in a radio talk show in Washington. 
Palka and Joe share two daughters, Liz Palka and Nora, a granddaughter, Anastasia, from the years-long relationship. And Palka often treasures her family moments on her social media accounts.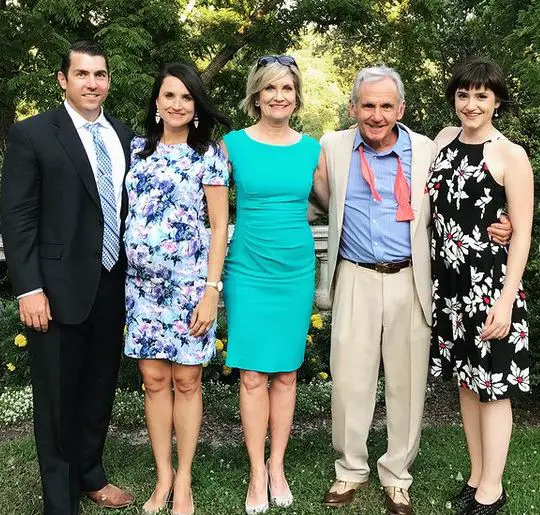 In the picture, (from right) Nora, Joe Palka, Sue Palka, Liz Palka, and Liz's husband. (Source: Instagram)
Although the couple has a balanced family life now, maintaining a balance between their personal and professional life wasn't always smooth sailing. 
From the early years, Joe and Palka have been in the media, Palka on television while Joe on the radio. Given the nature of their job, which is very demanding and transitory, the couple had to move several times and make sacrifices for one another. 
Palka, who went into the broadcasting after Joe's encouragement, had to turn down her full-time job offer by WRVA to move to Washington for her husband's new job at WMAL radio in the 80s. 
At the time opportunity for women in broadcasting was very narrow, but luckily, she got hired by WTVR as a weathercaster while she was four-month pregnant. 
But a year after the couple had moved to DC, Joe lost his job at the radio due to staffs cut-off. Palka feared they might have to move again, but Joe turned down a job offer in Buffalo and became a stay-at-home dad, looking after their firstborn. 
With series of such sacrifices, later the pair came to a stable routine with stable jobs. But, regardless of the challenges, the couple never let their profession take a toll on their personal life.  
Where Is Sue Palka Now? Her Net Worth
Continuing her career in journalism, Palka has been serving Fox 5 since 1985. Having worked at Fox for over three decades, the Washington resident has become one of the long-reigning employees at the station.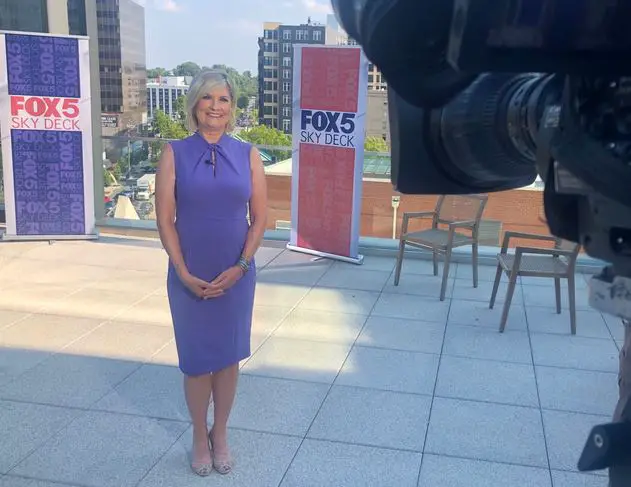 Sue Palka reporting for Fox 5. (Source: Twitter)
Throughout her career, she has only been associated with two stations, WTVR and Fox 5. Extremely passionate about the weather, Palka has covered several big weather stories, from massive hurricanes to destructive tornadoes. 
She admits to having an adventurous journey as a weather forecaster, which includes hot air balloon rides, paddle boating, and so on. 
Given her prominence in the broadcasting media, Palka assumably earns an annual salary of over 100 thousand dollars, which must have garnered her a hefty net worth.