Steve Gonsalves is an American paranormal investigator, producer, and TV personality best known for his works in reality TV shows like Ghost Hunters (2004-2016), Destination Truth (2009), Ghost Hunters Academy (2009-2010), and Ghost Nation (2019). 
He has also been featured in various radio and TV programs, including Larry King Now (2013), The View (2013), Fox and Friends (2013), and Steve Harvey (2014).
Steve Gonsalves' Wiki
Steve Gonsalves was born as Stephen A. Gonsalves on 23rd October 1975 in New Bedford, Massachusetts. He was raised in Pennsylvania.
Dating Details
Steve Gonsalves previously dated Alyce Haynes.
However, Alyce is now married to a guy named Ben Carlin since 6th January 2020.
Meet Another Reality TV Personality: Jamie Otis Diagnosed With Cancer? Update On Her Health Amid Pregnancy
Professionally, his ex-girlfriend Alyce has been working as the owner and manager at The Newfangled Bride since May 2011.
She graduated from the Glenvar High School in Roanoke County, Virginia. She attended Radford University from 2008 to 2012 and graduated with a degree in Bachelor of Science, majoring in Recreation, Parks, and Tourism.
Paranormal Works
Steve Gonsalves began working in his paranormal self-studies when he was fifteen years old. By the age of 17, he was already semi-professionally researching and reading and going to seminars. He also studied closely with the famed investigator and paranormal pioneer Dr. William G. Roll (Poltergeist) at the Rhine Research Center.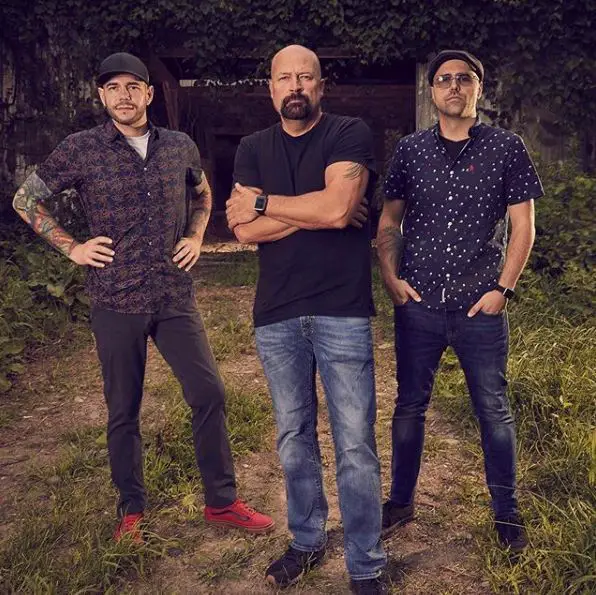 Steve Gonsalves with his co-cast members of the TV show, Ghost Nation on a photo shared on 16th November 2019 (Source: Steve Gonsalves' Instagram) 
When he reached 20, he began to lead home investigators in paranormal issues in Worcester, Massachusetts. A couple of years later, in 2001, he started his team of investigators named New England Paranormal. Shortly after that, he collaborated with two other paranormal enthusiasts and investigators; Jason Hawes and Grant Wilson and founded the paranormal investigative group, The Atlantic Paranormal Society (TAPS).
Also Read About: Geles Rodriguez Boyfriend, Family, Net Worth 
Thereafter, he, along with his group members, has been cast in several paranormal and documentary reality TV shows like Ghost Hunters (2004-20016) and Ghost Nation (2019).
Net Worth
According to Celebrity Net Worth, he has a net worth of $400 thousand.
Interesting Facts: 
Steve Gonsalves stands at the height of 5 feet and 11 inches (1.8 meters). 

He is the first cousin of the director, producer, and actress, Kelly Farrell. 

He is the co-founder of the TAPS Paramagazine, the wildly popular paranormal magazine.

He has decided not to eat seafood.

He has frequently revealed his fears of flying, spiders, and things that crawl on the show, Ghost Hunters.

He was once the drummer in the band Perpetual Doom with its former vocalist Phil Labonte who is now the founder and vocalist of another band named All That Remains. 

He has investigated over 1000 reportedly haunted locations.

In a tweet dated 29th October 2013, he wrote that he is looking for a better option other than jogging for weight loss.

He is a former police officer.

He has got several tattoos on his arms, which depict mainly horror movie stuff.