The multiple-time Emmy Awards winning news anchor Steve Chenevey, the famous face at Fox5-DC morning show, keeps his private life out of the limelight and has his fans curious about his love life.
So far, the anchor hasn't shared any information regarding his personal life, and therefore it is unknown if he has a wife or kids. And it is a wonder how he manages to keep his personal life so untouched despite being such a renowned television personality sounded by media attention most of the time.
Recently, the anchor had to go through a deeply saddening misfortune. On May 10, 2020, Chenevey took to Twitter to share heart-clenching news regarding his mother's demise, whom he referred to as his role model, greatest influencer, and teacher. Several condolences and comforting messages followed the post, and some regular viewers also noticed his absence from his morning show following the misfortune.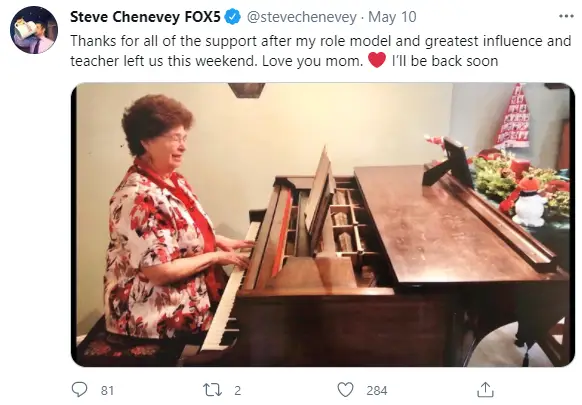 Steve Chenevey's mother. (source: Twitter)
His Glorious Career 
The news anchor began his career as a news anchor for WYTV TV in Youngstown, Ohio, in 1996. After three years of service at the network, he went to WPXI-TV in Pittsburgh in 1999 as a news reporter. 
Then, in 2002, he began his career at Fox Broadcasting network as a news anchor for WTTG Washington DC. Again, serving there for nine years, he joined WJLA-TV. But, working there only for a year, he returned to Fox Television in 2013 and has been serving ever since. 
At FOX5, the anchor hosts morning news from six to nine am and hosts Good Day from nine to eleven am. 
In recognition of his astonishing work, he was awarded Best News Anchor Emmy in 2010 and 2011.
Given the success he has had in his field, he might have accumulated a big chunk of net worth, which has not been publically revealed yet. However, according to a source, the salary of the news anchor could be estimated as over 70 thousand dollars annually. 
Short Bio
Born on July 18, 1970, in Western Pennsylvania, the anchor is 51-years-old as of now. He attained Kent State University for studying Mathematical Sciences and enrolled in the Clarion University of Pennsylvania, receiving his bachelor's degree in communication. 
In fact, Chenevey's childhood passion for visiting every place in the countries worldwide, documenting life and several stories, inspired him to take the path of a journalist.