Shepard 'Shep' Smith is an American television news anchor, who is well-recognized as the news anchor and host of the Fox News Channel. A TV Guide poll declared Shepard to be America's second most trusted news anchor.
The managing editor of breaking news of Fox Channel, Shepard was a married man before he opened up about his sexuality in the year 2017, and started dating a man, who served him once as an assistant. 
Shepard Reveals Gay Sexuality
Fox News host, Shepard appreciated his sexuality back in 2008-2009. However, he never came out of the closet in the public. 
He didn't even say any words when the e-magazine Gawker reported him to be dating a male employee from Fox in 2013. Since then, Shepard was speculated to be a gay.
But in June 2017, while giving a speech at University of Mississipi's Meek School of Journalism, Shepard publicly admitted being gay.
The veteran journalist spoke for about 45 minutes: he gushed about his sexuality and revealed his coming out the story. He said, he never hid his sexuality but was simply staying away from the subject. 
Shepard also admitted that he never considered his sexuality for most of his life. He went to work, used to manage a lot of people, covered news and dealt with holy men around him to distract himself from thinking about his preference. 
But evidently, he couldn't deny the fact but embrace it with all his heart. And with his disclosure, his insecurities to be left alone disappeared as people supported him even more. The Fox channel also renegotiated a multiyear contract with him in March 2018.
Blissfully Dating Fox Associate, Previously Married To Wife, Virginia Donald
54-year-old Shepard is in a relationship with boyfriend, Gio Graziano (30), an associate producer for the show, Varney & Co. on the Fox Business Network. Though they have 24 years age gap, they appear to be dating blissfully. 
The duo probably first met when Gio worked as a production assistant on Shepard's show Fox Report with Shepard Smith from 2011 to 2012. They were first reported to be dating in 2012.
However, Shepard kept his love-life under the wraps until May 2017, when he revealed that his partner was Gio. He also disclosed that he with his boyfriend had gone to a party of his late boss,  Roger Ailes, who left Fox after arrays of sexual harassment and assault.
The second time Shepard spilled the beans on his partner was on March 2018 during an interview with the Time Magazine. There he clearly quoted his relationship with boyfriend "long-time" and said that they live a normal life together. He also disclosed that they timely go out for dinner and meet each other's family.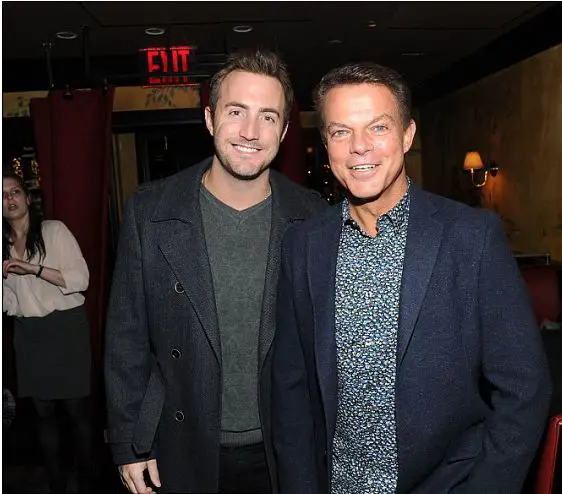 Shepard Smith with his boyfriend Gio Graziano in 2015 (Photo: dailymail.com)
Prior to being openly gay, and having Gio, Shepard was married to Virginia Donald. 
He has first met his wife at the University of Mississippi and had started dating since then. The duo had even tied the wedding knots in 1987 and were yet to welcome children. 
However, after six years of marriage, their relationship turned into a divorce in 1993 without publicized reason to the media. 
As of now, Stephen is enjoying his life to its fullest in Mississippi with the company of his boyfriend.
Shepard Smith's Biography: From Failed Student To Acclaimed Journalist
Shepard was born on 14 January 1964 in Holly Springs, MS with his birth name David Shepard Smith Jr.
He studied journalism at the University of Mississippi but was two credits short of graduating.
So, he started to put food in paper bags and sell them. In 1986, he was miraculously hired by the WJHG-TV in Panama City Beach, Florida. Later, he also landed as a reporter for WBBH-TV in Fort Myers, reporter/anchor in Miami with WSVN, and as a reporter at WKMG-TV in Orlando.
After that, Shepard, who stands at the tall height of 5' 11" (1.8 m),  joined the Fox News Channel at its inception in 1996. In the year 1997, Shepard reported on the death and funeral of Diana, Princess of Wales.
In 2013, he and Fox News announced that he had become the managing editor of Fox News's new breaking news division and the host of Shepard Smith Reporting. In March 2018, Fox News re-signed Shepard to a new multi-year contract.
Shepard was once rumored of being fired from his job for his disrespect for President Trump. However, the Network spokeswoman Irena Briganti said in an e-mail that the story was completely false. She even added, Shepard still had a job with the network and was on his show in his regular time slot.
With dedication and determination, Shepard established himself as a well-acclaimed reporter in the journalism field. Moreover, he has also earned a net worth that is estimated to be $25 million from his hefty salary from Fox.