Sarah Lane is an American TV and Internet personality, and a specialist in hosting, production, writing, and editing. With eighteen years of experience in media creating, she has excelled in producing content for television and online platforms.
She is best recognized for her work with G4, TechTV, Revision3 and TWiT LLC.
Wiki-Like-Bio
Sarah Lane was born on the 12th of October 1976 in Santa Cruz, California. She studied Bachelor of Arts in Broadcast and Electronic Communication Arts, TV, Radio, and New Media from San Francisco State University. 
Family Details 
Sarah Lane maintains the picture-perfect relationship with her family, and often, she ponders her love on social media platforms. From the look of it, it is confirmed that she has a mother named Linelle Lane.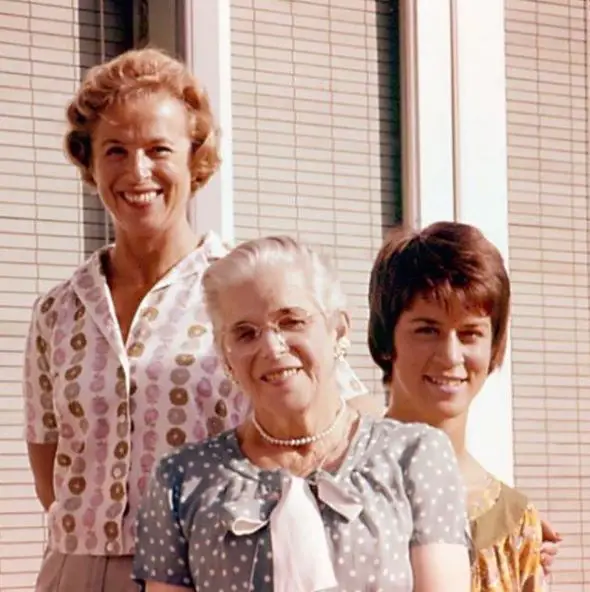 Sarah Lane's mother (right), grandmother (left), and great-grandmother (front) on a photo shared on 13th May 2019 (Source: Sarah Lane's Instagram)
Unfortunately, her father, a botanist is no more alive—he passed away in 2004.
Married & Divorce Details
Sarah Lane was previously married to Brenden Moran. She and Brenden started dating in the early 2000s while she was working at TechTV and G4TV. Following their long-time relationship, the couple decided to get married—they shared their vows on 20th May 2006 in a beautiful wedding ceremony organized not far away from Sarah's hometown.
TV Personality: Jacque Reid Married or Engaged, Husband, Boyfriend, Net Worth, Bio
After their marriage, Sarah and Brenden went on a super-extended honeymoon, which lasted up to thirteen months, traveling around the world. 
However, on 31st December 2008, Sarah announced through her vlog that she divorced her husband of two-years, Brenden.
Career
One of Sarah Lane's first services was at KRON-TV, where she worked as a production assistant for documentaries until September 1997. Then she moved to San Jose, California, to work for a TV show called New Media News. While working there until 1999, she spent most of her time interviewing 25-year old CEOs about their Next Big Things.
After that, she returned to KRON-TV and worked for three years as a Series Producer and Director. Then she went to San Francisco to serve TechTV's computer-centric show, The Screen Savers as a Senior Segment Producer and host.
In 2004, she joined G4 in Los Angeles, becoming the first female co-host of the daily show, Attack of the Show. While working for one year there, she interviewed guests both in-studio and in the field, for the show. Then from 2006 to 2007, she traveled around the world in various countries like Greece, Russia, China, Vietnam, and India, capturing different adventurous moments in videos and photos and uploading them in her vlog.
In July 2007, she joined the team of Revision 3 as a Director of Production, where she produced, wrote, and hosted web/music culture program, popSiren, and also created new shows under the lifestyle genre. 
Another Host: Bill O'Reilly Wife, Divorce, Children and Net Worth
Later, Sarah joined the Current TV as a host, producer, and editor in February 2009. Serving there for one year, she joined TWiT LLC, where she worked in positions of executive producer and host for five years. In January 2015, she joined the team of TechCrunch as its first Executive Producer, and after one year, she relocated to Los Angeles to serve Lionsgate Entertainment as Vice President.
After that, Sarah joined DTNS as a host for Daily Tech News Show and has been continuing her job there ever since. She also works as an Executive Producer for VMG Partners. 
Net Worth
According to Celebrity Net Worth, Sarah Lane has a net worth of $1 million.