Salena Zito is a CNN contributor, a reporter for the Washington Examiner, an enterprise columnist, host of SIRIUS XM POTUS Channel and co-author of the book, The Great Divide.
Throughout her career, Salena has interviewed every President since Gerald Ford, Vice-President since Walter Mondale of the United States and also their competitors. She even interviewed all 22 candidates of both sides of the 2016 presidential election.
She worked in this field for two decades and before that, she contributed to the Pittsburgh Steelers, had pie business and owned a theatre which was famous for its stage production of Reservoir Dogs.
Working for various reputed channels, the journalist probably earned a significant amount of salary throughout her career.
Salena Zito Wiki-Like-Bio, Age
Salena Zito was born on 29 September 1959 in Pittsburgh, Pennsylvania, United States.
Read About: Elaine Quijano Bio, Married, Husband, Age, Parents, CBS, Net Worth, Salary
Standing at the height of 5 feet 2 inches (1.58 meters), she celebrated her 58th birthday with her cute little granddaughter in 2017. That more than proved that Salena made time for her family amidst her busy schedule.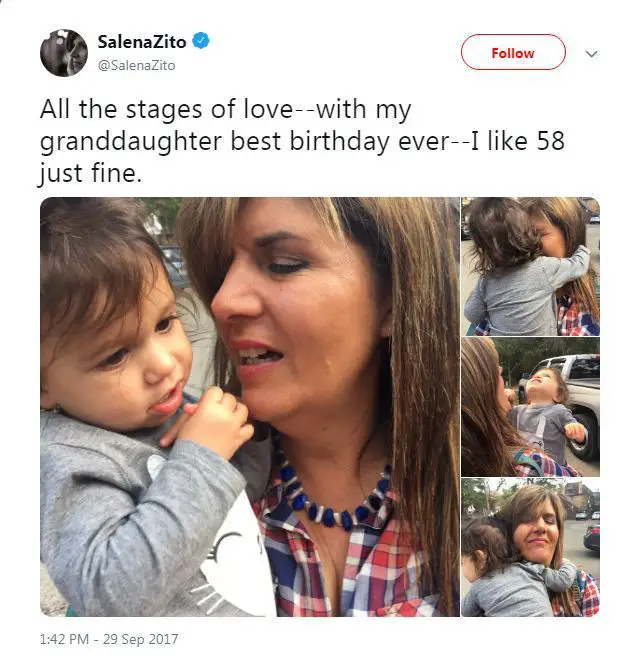 Salena Zito celebrates her 58th birthday with her granddaughter on 29 September 2017 (Photo: Salena Zito's Twitter)
Raised in Pittsburgh, Salena attended Perry Traditional Academy and later went on to the University of Pittsburgh to complete her education with a degree in Journalism. 
Embracing a mixed ethnicity of Italian Scots-Irish descent, Salena comes from a family background of wise and open-minded people. 
At the time when racism still held its ground over the people of American nationality, her mother welcomed a black family into the neighborhood with no discrimination and also welcomed them to their family table. 
Being firm and compassionate, her mother even revealed a family secret to her when she was a teenager. Salena's great-grandfather Clifford G. Peiffer killed himself by jumping off the Sandusky Street Bridge into the Allegheny River. 
That left Clifford's family in despair, and his son (Salena's grandfather) had to quit school to support the family. Her mother told her that the choice her great-grandfather Clifford made was one nobody should ever face. 
See Also: Brynn Gingras Wiki, Bio, Married, Husband, Parents, Height, Age
However, Salena learned a great deal from the story behind her great-grandfather's suicide. So, she worked hard to fulfill her dreams, duties, and responsibilities. 
Married To Husband
Salena Zito has been married to her husband, Michael, for a long time. Her husband works in a political field.
She is a family-oriented person who spends quality time with her two children, Glenn and Shannon and also her grandchildren. 
She even baked 3000 cookies for her daughter's wedding in 2014 and is close to her husband and his side of the family as well. Salena celebrates her children's birthdays memorably with any chances she gets. 
Salena makes time for the things she is interested in like cycling, hiking, cooking, canning, baking, and most importantly, she always makes time for her family.
Salena spends every Sunday with her husband Michael, two adult children, grandchildren, parents, her sisters, brothers-in-law, and their children and grandchildren.
Attaining her personal and professional life successfully, Salena creates an example for many.