While people are busy planning their weekend trips and booking for their favorite restaurants, Ryan Beesley, on the other hand, would be preparing to present his very best weather reports.
On the weekdays, Ryan can be viewed on Good day Atlanta at 10 a.m. and on FOX 5 News at noon, each day.
The Atlanta native completed his formal education with a degree in Meteorology and thanks to his very decision that his audiences were able to get the best out of his astounding broadcasting and reporting skills.
As the star-pupil of his batch, he was awarded the top forecaster award for the class of 2012.
Ryan Beesley's Journey To Fox 5
It was during the March of 2017 when Ryan joined the WAGA-TV owned FOX 5 Atlanta team.
Almost three years of serving as a meteorologist for the network, Ryan must be getting paid with a worthwhile digit in his salary, which though he chooses to keep to himself. 
More From FOX 5: Baruch Shemtov Gay, Dating, Fox 5, Salary, Height, Bio
Besides working as an on-air meteorologist, Ryan also got to feel the thrill of chasing a great number of tornadoes, including the tornado outbreak dated 27th of April 2011. 
Apart from this, he is incredibly indulged in teaching the students around North Georgia, basically about the weather, storm chasing, and what it is like to be a professional in the field. 
Looking back, it was never a comfortable journey that he walked through. By the time Ryan was in his junior year back in 2007, his father had suffered an untimely death by cancer. 
The very heartbreak marked the "most crucial moment" in Ryan's life, as said by his mother, Laury Beesley. 
Ryan had always planned a career in meteorology, and since no college in Georgia was offering him the degree, he had to leave the state.
And, at that point in his life- grief-struck and sorrowful, he could not afford to leave the country for financial reasons and also for not being able to leave his mother alone. 
A while after he was convinced by a friend, Ryan bounced back to focus on his career, learning to cope up with the big loss. He was received in the meteorology program at the University of South Alabama. 
Today, he makes his mother one proudest parent who cannot stop gushing about her son's achievements- 
Dreams do come true even through heartache. It feels like being on a cloud, floating with joy; looking down on a life Ryan's beloved dad and I created.
Indeed, who would not feel proud to have a son like him!
Ryan Beesley Married To Wife
Ryan did not only acquire the white ethnicity from his folks but also their norms and values, especially about the family values he grew up with.
'Family above everything else'- is the main motto of the Beesley household. 
Enjoy! : Alison Morris Wiki, Age, Husband, Married, Engaged, Fox 5
Ryan married the love of his life, Corinne Anderson, among several family and friends witnessing their union on 23rd April 2016.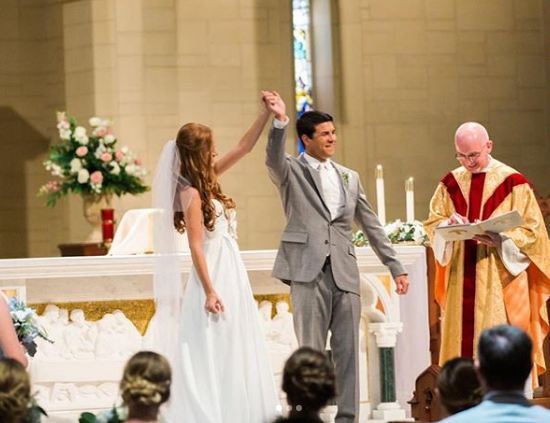 Ryan Beesley and his wife, Corinne Anderson exchanging their wedding vow on 23 April 2016 (Photo: Ryan Beesley's Instagram)
Coming from Roswell, Georgia, no doubt the groom chose the very place to swap his "I Do's." 
A couple of years to the blissful married life and Ryan shares two adorable babies with his wife- a boy named Jackson Thomas Beesley (born on 5th July 2017) and the youngest one, a newly born daughter named Lilah (born on 19th September 2019).
The family sure has so much to celebrate for!